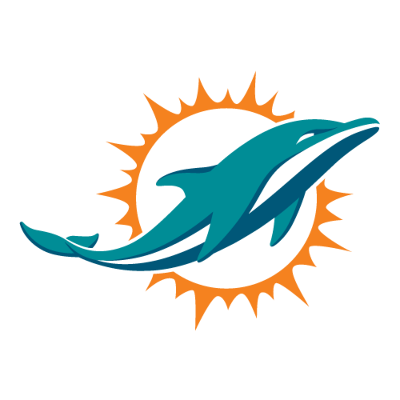 There is a lot of hope in South Beach for a Miami team that narrowly missed out on the playoffs last season after winning 10 games.
Odds to win the Super Bowl: +4000
Odds to win the AFC: +1800
Odds to win the AFC East: +235
The Dolphins took a big leap last season and ranked 15th in the league in points and their defense was solid ranking sixth in points allowed.
The team will be much better if Tua Tagovailoa, who was up and down last season but showed flashes and is totally healthy from a hip injury suffered in his last season at Alabama. If he can get it done under center and stay health the fish may snap their 20-year playoff drought.
Tua Has New Targets
Tua has a couple of new targets in Will Fuller V, who can be great but has injury issues, and Jaylen Waddle, who was Tua's teammate at Bama and was the sixth pick in the last draft.
The WR duo of DeVante Parker and Preston Williams are back and both were nicked up last season but are solid when on the field.
Myles Gaskin led the team with 584 rushing yards last season and off-season addition Malcolm Brown and Salvon Ahmed will help to revive the less than stellar run game.
The offensive line started three rookies last season in Austin Jackson, Robert Hunt and Solomon Kindley and like Tua they were up and down.
Pass Protection Needs to Improve
Their pass protection and run blocking needs to improve this season. Tagovailoa only averaged 181 passing yards per game last season and he looks to let it rip more this season but a lot of that depends on the play of the line.
Second round pick OT Liam Eichenberg was looked at as a steal and he may start right away.
One of the reasons that the Dolphins' defense shined last season was that they led the league with 29 takeaways. CB Xavien Howard led the NFL with 10 interceptions and he and Byron Jones anchor an athletic secondary that played great last season.
The Dolphins will need more of a pass rush this season with the loss of Kyle Van Noy, who had six sacks and was let go after only one season in Miami.
Emmanuel Ogbah broke out with nine sacks and Jerome Baker (seven sacks, 112 tackles) are back and will be counted on, big time up front. The team is also expecting big things this season from Andrew Van Ginkel, who always seems to be around the ball and can make the big play in the backfield.
Tough Schedule Early
The Dolphins will need to tread water early in their first half schedule, which is tougher than the second half one. The team opens with the Patriots and Bills, who they face twice in the first eight weeks, and then the Raiders, Colts, and defending champion Buccaneers on the road.
They will need to have a solid run in the beginning of the second half where they only face one team in their first five games that had a winning record last season.
Season Outlook
The Dolphins jumped from 5-11 in 2019 to 10-6 last season. I see a little jump from them this season, as I think Tua will have a better season being 100% healthy and the offensive line will play better.
Miami has the defense and with a better offense this season the Dolphins will win in double-digits in games this season, make the playoffs, and battle with the Bills for the AFC East crown.