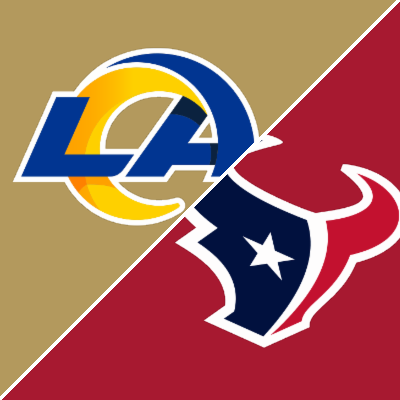 The Rams have six wins and they head to the Lone Star State to take on a Texans team that has lost six in a row.
The Rams are a big 14.5-point road favorite in this non-conference game with the total sitting at 47.5. While the total has gone up a point and a half the spread has not changed since opening as of Wednesday.
After Week 7 the Rams are 6-1 and 4-3 ATS and the Texans are 1-6 and 3-4 ATS.
The Rams won their third in a row in their last game with a 28-19 win over the winless Detroit Lions. Matt Stafford passed for three TD and after giving up 16 points in the first half the L.A. defense only gave up three points in the second half.
The Texans were on the road in their last game where they were throttled 31-5 at the hands of the undefeated Arizona Cardinals. To say their offense struggled in the loss would be an understatement, as they only had 160 total yards and only rushed for 42 yards.
While the Rams are 4-0 ATS in their last four games facing the Texans their last meeting was in the 2017 season.
Another Sub .500 Team for Rams
The Rams have a win over the Bucs but their other five wins have come facing teams that are under .500. That continues facing a reeling Texans team but in two of their next three games they face the Titans and the Packers.
The team is a balanced one led by Matthew Stafford, who ranks first in the NFL in QBR and third in passing yards. He has seven TD and only one pick in his last two games. His WR corps is legit led by Cooper Kupp, who ranks first in the league with 809 receiving yards and three other players have at least 221 receiving yards.
The run game has not been great and while Darrell Henderson Jr. has rushed for 417 yards and is averaging 4.3 yards per carry he has failed to average over 3.7 yards per carry in the last two games.
The Houston defense has been torched in the last two games where they were outscored 62-8. Their pass defense ranks 18th in the league while their run defense ranks second to last.
Texans Hoping Taylor Can Play
The Texans' offense has only produced eight points in the last two weeks and only rank 31st in the league in ppg and the team is hoping Tyrod Taylor is back for this game. He has not played since Week 2 with a hamstring injury but returned to practice this week.
While Houston has balance on offense it is not good balance ranking 30th in the league in both passing and rushing yards per game.
Rookie David Mills (1,047 yards 5 TD 7 INT) ranks 30th in the league in QBR and has failed to pass for a TD in two straight games.
Brandin Cooks has been pretty good with 502 receiving yards but no other player has over 154 receiving yards. To make it worse WR David Johnson ranks second on the team with 154 receiving yards and Chris Conley is the next leading target with 134 yards.
Johnson Mark Ingram leads Houston with 294 rushing yards but is only averaging 3.2 yards per carry and only had nine yards on six carries in the bad loss to the Cardinals in the last game.
The Rams' defense has killed it as of late but they have not played good teams. Overall, they rank 21st in the league in pass D and 15th in run D.
The Prediction 
While the Rams are only 1-5 ATS in their last six games facing a team with a losing record in the Texans are only 3-9 ATS in their last 12 games facing a team with a winning record.
While the Texans are hoping Taylor can come back for this game, I do not see that happening. Mills will get another shot and he will miss that shot badly. I picked the Texans to cover the huge spread against Arizona last week but will not make that mistake twice. I look for a Rams blowout in this game facing a Texans team that has been blown out in two straight games. Take the Rams in this one even giving a lot of points on the road.
PICK:  Rams -14.5