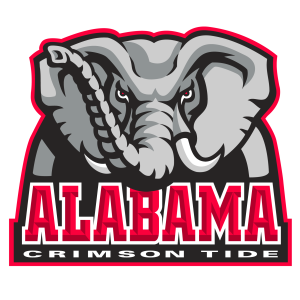 Alabama ended last season in disappointment, but it still only lost one Game behind an offense that scored 45.6 points and defense that allowed only 14.8 points per contest. The quest starts again for a National Championship in what is expected to be the last year for Tua Tagovailoa.
The Crimson Tide had the second-best odds to win it all in early May at 5Dimes Sportsbook with +250 odds just behind Clemson.
Tua Tagovailoa Has Plenty of Targets
There's no reason why Alabama's offense will take a step back. Sure, the running backs will look different with Najee Harris (783 yards, 6.7 ypc) and Brian Robinson (272 yards) in bigger roles, but that won't change anything.
Tagovailoa still runs the show after posting 3,966 yards, 43 touchdowns and six interceptions on 69.0% completion. He should be around 11.2 yards per attempt again with the help of a stacked receiving crew that returns Jerry Jeudy (1,315 yards, 14 TDs), Jaylen Waddle (848 yards, 7 TDs), Henry Ruggs III (741 yards, 11 TDs) and DeVonta Smith (693 yards).
There are some younger faces on the line, but that's never an issue for the Tide and it won't be again, especially with a couple easy early Games to get going.
Raekwon Davis and Anfernee Jennings Return on Defense
The defense has the tools to take a step forward with guys like end Raekwon Davis and linebacker Anfernee Jennings returning. Those two bring experience, while others like freshman tackle DJ Dale and outside linebacker Terrell Lewis (returning from an ACL injury) bring something new.
The linebackers are also deeper after a lot of last year's backups got more time than expected due to injury with Eyabi Anoma and Christopher Allen playing well when needed.
The secondary is a little more unknown, but if Shyheim Carter can return to full health, he'll be a top cornerback, while Xavier McKinney has become one of the defensive leaders at safety.
While Clemson carved up this group in the final, they should be revived with relevant pieces returning from injury, as well as general improvement from those that were pushed into starting roles unexpectedly.
12-0 is a Very Real Possibility
The Schedule also aligns well for Alabama to get going with Four of its first five Games coming close to home. The Duke Game could go similar to the Louisville result last year, while the trip to South Carolina may provide resistance, but likely not enough to stop Tagovailoa and company.
The biggest tests will be trips to A&M, Miss. State and Auburn, and it wouldn't be surprising if the Tide lose one of those. Losing more than one still feels unlikely, especially with an open week before the A&M Game.
The Iron Bowl is never easy on the road, but even with one loss, there's a decent shot Alabama could make the CFP, as long as it wins the SEC title Game.
There may be a couple tests on the Schedule, but with another elite defense and another year of Tagovailoa, there's little reason to bet against the Tide. Nick Saban has some motivation to work with coming off last year's final loss so expect some big wins early in the season to dispose of that performance.
2019 Alabama Crimson Tide Football Schedule
Aug. 31 vs. Duke (Mercedes-Benz Stadium, Atlanta)
Sept. 7 vs. New Mexico State
Sept. 14 at South Carolina
Sept. 21 vs. Southern Mississippi
Sept. 28 vs. Ole Miss
Oct. 12 at Texas A&M
Oct. 19 vs. Tennessee
Oct. 26 vs. Arkansas
Nov. 9 vs. LSU
Nov. 16 at Mississippi State
Nov. 23 vs. Western Carolina
Nov. 30 at Auburn