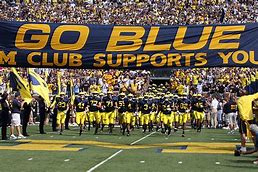 Michigan continues to get solid numbers to win the National Championship despite never amounting to much. The Wolverines were +1500 to win it all two years ago and +1400 last season. This year, that number was at +1800 (sixth-best to win it all at 5Dimes Sportsbook) with the second-best odds to win the Big Ten.
Either way, there is something major in Michigan's favor and that's the departure of Urban Meyer. OSU derailed Michigan in the finale last season, which resulted in 103 points allowed in the final two Games (also lost to Florida in Peach Bowl). Combine Meyer's departure with an experienced quarterback and there is hope for the maize and blue.
How Does the Offense Shape Up?
New offensive coordinator Josh Gattis (formerly at Penn State and Alabama) has a talented quarterback to work with in Shea Patterson, who ran the offense well with 22 touchdowns and only seven picks, completing eight yards per pass.
The thought is that Gattis will turn up the speed, which could mean bigger numbers for Patterson with plenty of tools at his disposal, including top wide outs Nico Collins (632 yards, 6 TDs), Donovan Peoples-Jones (612 yards, 8 TDs) and Tarik Black.
It's a little unknown in the backfield, but redshirt freshman Christian Turner should be viable along with walk-on senior Tru Wilson, who ran for 5.9 ypc on 62 carries last season. The key to putting everything together is an offensive line that returns the majority of its starters with depth to boot. If this group can take it up another notch, the offense can go from good to great after last year's 35.2 points per Game.
Will the Michigan Defense Be Up To Par?
Surprisingly, the questions come at the other end after allowing 17.6 points per contest since so many high-level guys are gone to the NFL. The line is getting a complete makeover, though due to high-level recruiting, Jim Harbaugh always has talent at his disposal.
Linebacker is in a better spot, at least experience-wise with upper classmen Josh Ross, Devin Gil and Josh Uche (seven sacks) still around. It's the same situation in the secondary because even though Michigan lost a couple starters, it still has Lavert Hill and Josh Metellus to go with a slew of talented and fast freshmen.
But even with talent in every unit, this defense is unlikely to match last year's numbers since numerous guys are in the NFL, including a couple drafted in the first round and a couple more after that.
The hope is that the offense can get going from the start because after the opener, things get real, fast. The Game against Army looks like a free win, but the Black Knights almost won at Oklahoma last year via a clock-killing triple-option. Now with a weaker defense, that could be a problem for the Wolverines.
Following that, the offense will need to lead the way at Wisconsin in one of their five Big Ten road Games. The main positives in the Schedule are that their most difficult opponents come to Ann Arbor in Iowa, Notre Dame, Michigan State and Ohio State.
Is 10 Wins a Possibility?
The negatives are that they have to play all those teams in addition to traveling to Wisconsin and Penn State. The Wolverines are getting a ton of money as usual, but if the defense takes a step back, everything will depend on the offense and its new coordinator. If Patterson can get going behind an elite offensive line, they may be in business with 10 wins a good bet, though maybe not a CFP appearance due to Schedule.
2019 Michigan Wolverines Football Schedule
Aug. 31 vs. Middle Tennessee
Sept. 7 vs. Army
Sept. 21 at Wisconsin
Sept. 28 vs. Rutgers
Oct. 5 vs. Iowa
Oct. 12 at Illinois
Oct. 19 at Penn State
Oct. 26 vs. Notre Dame
Nov. 2 at Maryland
Nov. 16 vs. Michigan State
Nov. 23 at Indiana
Nov. 30 vs. Ohio State