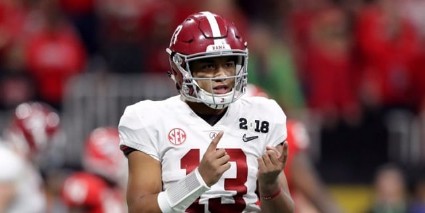 Alabama will take on Duke on August 31st in the Chick-fil-A Kickoff in Atlanta with a 3:30 pm est. Kickoff. Alabama opened as a 31 point favorite at 5 dimes sportsbook. The betting action has been all Bama with the line now 34. The total is 58.
It's another season of Alabama being a National Championship favorite and huge favorite in the opener. The Crimson Tide have dominated their opener the last few seasons and this one likely won't be any different.
They beat Louisville 51-14 last year, No. 3 Florida State 24-7 before that and USC 52-6 in 2016. 
Duke Has Their Hands Full!
It's a wonder where Duke's biggest problem will be in this game. It's logical to start with Alabama's offense because Tua Tagovailoa is still there as one of the favorites to win the Heisman after posting 43 touchdowns and six interceptions on 11.2 yards per attempt in his first year as a starter.
Then there's still all of his top wideouts like Jerry Jeudy, Jaylen Waddle, Henry Ruggs and DeVonta Smith. The line has a few new pieces, but that's rarely an issue for the Tide while Najee Harris takes over as lead running back after averaging a team-best 6.7 yards per carry on 117 totes.
Needless to say, Duke will be in trouble after allowing 222 rushing yards per game last year. Sure, the Blue Devils return everyone up front, but that probably won't matter.
Even though it's the same case in the secondary, it's hard to see them stopping Tagovailoa. Plus, it doesn't help that linebacker is mostly new. If the Tide don't score at least 40 points, it'd be a surprise. While they struggled against Clemson in the title game, they still carved up almost everyone else, especially teams at the same level as Duke.
Quentin Harris Has Monumental Challenge 
It'd be easier to take Duke to cover if Daniel Jones was still around, but that's not the case. Dual-threat quarterback Quentin Harris is set to take over after mixed results last season, completing 50% of his 68 pass attempts mostly against NCCU and Baylor.
An experienced line in front should help him stay upright, though maybe not against Alabama. It doesn't help that expected top receiver Jake Bobo broke his clavicle in the preseason so Harris will have to lean on even more unknown options like senior Aaron Young (7 receptions).
The Blue Devils may try and run behind Deon Jackson (847 yards), but that's usually not a good strategy against the Tide, who allowed 14.8 points and 117 yards on the ground per game last year.
Tide Lost Starters – But So What
The Tide lost a lot of defensive players, but that's the case every year. There's plenty of talent in waiting with Raekwon Davis and Anfernee Jennings on the edges, as well as Trevon Diggs and Patrick Surtain in the secondary. It'd be surprising if Duke scored more than 14 or even 10 points. Alabama allowed 14 points to Louisville last year mostly because the backups were in late.
Some will look at last year's 35-6 result against Clemson as a reason to back Duke, but that means you have to back their defense against Tagovailoa. With the spread over 30 points, that's a hard bet to make, especially since the Blue Devils have a new quarterback.
Had this game been played a year ago, our number would have been right around where the current line sits. Considering that Duke figures to not be as good as they were a year ago, combined with the fact that Alabama is, well, Alabama, we can only go one way here.
We hate to be late to the party (could have had -31) bit…
Our Picks – Alabama -33 and Over 58