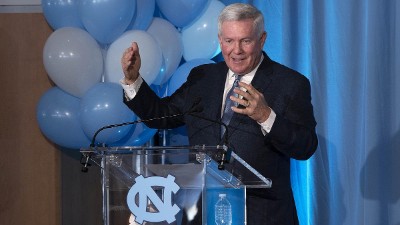 Mack Brown is back at North Carolina and he gets to open the season against South Carolina. If the Tar Heels can steal a win, the hype would be real in Chapel Hill, at least until basketball started. However, that's not expected to happen as the Gamecocks opened as -7.5 point favorites with an over/under of 63 for the game in Charlotte at Bank of America Stadium.
Brown has a lot of work to do with this team and he has the coordinators to improve on last year's 2-9 record. It starts with the Air Raid under offensive coordinator Phil Longo, formerly at Ole Miss.
The question is if the Heels have the tools to run a pass-heavy, high-paced offense. A few weeks before the game, they still didn't know their starting quarterback with redshirt freshmen Cade Fortin and Jace Ruder competing with true freshman Sam Howell.
Air Raid Could Prove Difficult to Run
Running the Air Raid should be fun, but considering they'll have a first-year starter at quarterback, there could be issues in the first month. Even if they decide to run a little more behind Michael Carter and Antonio Williams, there are still questions about the line which may start a couple freshmen. 
South Carolina gave up 44 points to Ole Miss and Longo last year, but at that point, the Rebels were a well-oiled machine with a more experienced quarterback. In addition to UNC running this kind of offense for the first time, South Carolina has experience against it and has a nice returning core on the defensive side led by seniors Javon Kinlaw and Keir Thomas on the line.
UNC Cover Up to Defense?
For UNC to cover, it might be up to the defense which is getting an overhaul after allowing 34.2 points per game. Things should also look a lot different with former Navy DC Jay Bateman taking over with an attacking style. They get a nice test in the opener against a good, but not great South Carolina offense.
Having an experienced senior at quarterback in Jake Bentley could make all the difference for the first game of the season. While he threw 14 interceptions last year, he still has three years of starting experience and threw for 510 yards against Clemson. If he can improve just a bit, this offense should average well over 30 points per game (30.1 last year).
Bentley lost his top receiving option, but Bryan Edwards and Shi Smith are still there after combining for 90 receptions, 1,500 yards and 11 touchdowns. If those guys are on the same page early, that will open holes for Rico Dowdle and A.J. Turner in the ground game. UNC will try and force the pressure and hope Bentley throws a few picks, but if not, that could lead to some big plays.
The Tar Heels have everything they need to return to a bowl this year, at least from a coaching perspective, but a lack of experience under center will be an issue early. That's something the Gamecocks don't have to worry about and will be the main advantage going into the opener.
Our Pick – South Carolina -7 -115
Read our season previews for both South Carolina and UNC