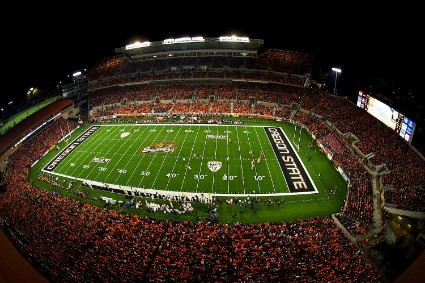 Oregon State will host Oklahoma State in week 1 college football betting action as hefty +15.5 point home underdogs. Both 5 dimes and betonline had +17 at one point but larger bets on the dog caused the number to move down.
As of this mid August writing there is no total posted. However, our model, using data from last season, suggests the score could reach the 80's. Again, that's using data from last year. Our best guess on where the total opens would probably around 65.
Beavers Haven't Been Competitive
Oregon State has won a total of 3 games the past two seasons. What's worse is, they weren't even competitive. They had one competitive game last year against a "real" opponent, beating Colorado in OT.
The year before, they had two competitive games, Colorado and Stanford. The rest of their games over the past two seasons were pretty much blowouts with the Beavers on the short end of the stick.
The Oregon State defense gave up points by the bucket load (47.5 ppg), and here comes an Oklahoma State team that scores points in that very same manner.
The Cowboys are off a 7-6 season which ended with A Liberty Bowl win over Missouri. As noted above, their offense had no problems moving the ball on anyone. Their problems were on the defensive side of the ball. Typical for Oklahoma State teams.
In terms of returning talent, Oregon State is one of the top teams in the nation in that category. Inexperienced they are not. If this were a middle of the road .500 team, we'd expect a winning season and great strides this year.
We're just not so sure how much better the Beavers can be due to experience. They simply haven't shown us anything. Not even a glimmer of hope that they can compete.
Take Advantage of Live Betting
We're going to take the easy way out of this game. We're going to advise using the live betting option that all sportsbooks offer as a means to bet this game if you must.
This game figures to see plenty of points scored and could potentially see lot's of lead changes. It's precisely the type of game that leads to great opportunities with live betting as the general public tends to overreact to every single play.
But don't worry, we won't leave you hanging. We'll give you an article that explains just how to take advantage of live betting by making your own in game line.