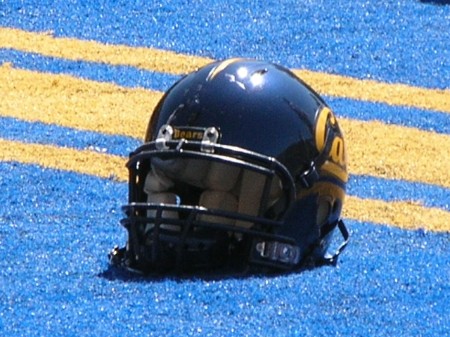 The Pac-12 is a mystery every week and that's been apparent with both of these teams. Arizona State went from winning at Michigan State to losing at home against Colorado last weekend.
California has yet to lose, but its last three wins have all come by eight points or less and it beat UC Davis by just 14 points in the opener. The Golden Bears opened as -4.5 point home favorites for this one.
While ASU's loss at Colorado was surprisingly high scoring, this one is set to be a little more defensive, similar to its win at MSU. That's mostly because Cal isn't much different than Michigan State, at least in terms of how it wants to play.
For Cal it's All About the "D"
The Bears are all about defense and don't want to rely on the offense if possible, which is how they've won their first four games.
Cal quarterback Chase Garbers has fine numbers, completing 57.3% of his passes on 8.1 yards per attempt, but he's not going to open up this game. The Bears will run the ball as much as possible between Christopher Brown and Marcel Dancy, while Garbers can also move with 50 carries (sacks included).
So far, that's worked with Brown and Dancy both near five yards per carry and their team average slightly lower because Garbers has been sacked 13 times. Their goal in this game will be to get to 20 points and hope that's enough.
Is AZ State Defense for Real?
It's still unknown what Arizona State's defense can do because it kept MSU in check one week and then got exploited by Colorado the next. They have a worse defense than a year ago, but it's unknown to what level.
To have a chance, the Sun Devils will need something from freshman quarterback Jayden Daniels, who is completing 61.2% of his passes on 9.3 yards per attempt.
Overall, those numbers are slightly better than Garbers, but not by much, and outside of top receiver Brandon Aiyuk, he hasn't had much help.
Expect Cal to Shut Down Eno Benjamin
Similar to Cal, ASU is going to lean on running back Eno Benjamin as much as possible and that's why he already has 77 carries through three games. The problem is that he's averaging 3.8 yards per carry because defenses know that's what ASU wants to do. 
Cal keeps finding ways to win. They're allowing 3.8 yards per carry through four games and will try and hit that mark against Benjamin.
If Benjamin can't find room, that points to the home team because Daniels has yet to show competency against a good defense. Neither one of these teams is easy to back, but Cal seems to know how to win, something Arizona State couldn't do last week against Colorado.
Arizona State hasn't covered in its last six Friday games, while the under is 8-1 in Cal's last nine conference games. These teams haven't played since 2016 so it's unwise to put too much into previous results, especially with the over 4-1 in the last five. The home team and favorite is 7-3 ATS in the last 10 meetings.
Our Pick – On paper this looks like a defensive battle. Using yards per point to rank these defenses, we have the #10 and #13 defenses on display. However, at closer look, perhaps one of those defenses is a paper tiger.
Arizona State can count Kent State and Sacramento St among their 4 opponents. They held Michigan State in check but then gave up 34 points to Colorado.
For Cal, there were no such stumbles. They took care of UC Davis and North Texas but also held Washington in check as well as Ole Miss on the road.
We feel the Cal defense is for real (going back to last year) and will be the difference in this game. Cal -4.5