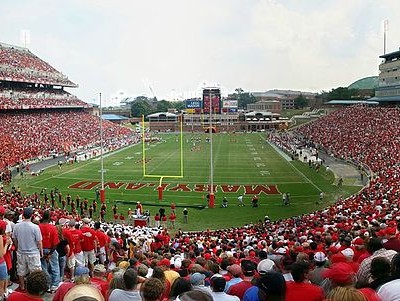 Maryland looked for real and then it didn't. The Terrapins opened some eyes after they dropped 61 points on previously ranked Syracuse, but then returned to normal and lost at Temple next game.
Penn State maybe didn't look great in its win over Pitt, but it still got the win. That's enough for the oddsmakers as the Nittany Lions opened as -6 point road favorites.
It wasn't that long ago that Penn State demolished Maryland 38-3 in the last game of the 2018 regular season. That being the case, these teams are a bit different since then. The Terps have a different quarterback and coach, while the Nittany Lions have a new quarterback and running back. 
Terps Tough to Gauge
Because of how different Maryland has looked between games, it's hard to gauge just how good (or bad) they are, which is why there will be money on both sides of this game.
The Terps are all about speed and while quarterback Josh Jackson hasn't been accurate, he's still completing long passes to guys like Dontay Demus and Darryl Jones. But to have a chance in this game, they'll need to run the ball because Jackson simply isn't good enough to win by himself, completing 51% of his passes on 7.2 yards per attempt.
While running back Anthony McFarland leads the way with 225 rushing yards and five touchdowns, both Javon Leake and Jake Funk can break runs and have two touchdowns each. PSU hasn't seen this explosive of an offense yet and that could be a problem.
Defense may be the strong suit of PSU, but beating up on weaker offenses like that of Pitt doesn't really show anything.
Lions QB Clifford Needs to Step Up
To cover and win this game on the road, the Nittany Lions will need a little more from quarterback Sean Clifford, who wasn't great in the win against Pitt. His overall numbers are solid, completing 10.0 yards per attempt, but a lot of that was done in the first two games.
He's still finding his way in this offense and isn't exactly an easy quarterback to trust, at least in terms of betting. However, there's still a path to winning for PSU as long as it continues to run the ball.
The Nittany Lions are averaging 5.7 yards per carry as a team with Clifford at 113 rushing yards behind both running backs Journey Brown and Devyn Ford. That's relevant because Penn State ran for 310 yards on 7.0 yards per carry in last year's matchup.
Total May be the Way to Bet
Sure, this is a new Maryland, but that was less than a year ago and that stat line can't be completely overlooked. If they can run the ball, that'll keep Maryland's explosive offense off the field, which is the same approach Temple took in its win.
There aren't many relevant trends for either of these teams, but Penn State has covered the last three meetings by large margins, winning them by a combined 142-20 score line. These are different teams, but that stat is hard to ignore.
Our Pick – Both of these teams have played 3 games. We start to trust our numbers more once teams have 4 games worth of stats. So, we're almost there with these two, but not quite.
With that in mind, one area where our numbers do agree across the board is the total. Our numbers suggest this total is a bit too high. UNDER 60