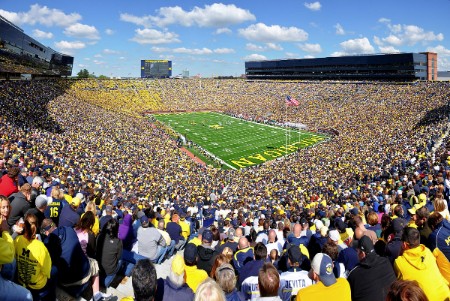 Michigan fans are out for blood. After getting trounced by Wisconsin last week, some Wolverines have come out in favor of getting rid of Jim Harbaugh after the season. Whether that's a good idea or not, they were still early -27.5 point home favorites with an over/under of 48 against Rutgers.
While Michigan may be worse than last year, Rutgers looks about the same as previous versions. Similar to last year, the Scarlet Knights won their first game against a bad opponent and then couldn't contend against better teams.
Will Rutgers Score?
They kept Iowa to 30 points, but couldn't score themselves. In last year's meeting in November, Rutgers got a random 80-yard touchdown in the first quarter and then couldn't do anything the rest of the way. Sure, Rutgers covered, but Michigan did whatever it wanted offensively in the 42-7 win.
Michigan's offense is under the scope and will be a reason people don't back the favorite. Shea Patterson, a preseason Heisman candidate, has looked about the same as a year ago, completing 55.6% of his passes on 7.0 yards per attempt.
He still has a solid receiving corps in Ronnie Bell, Tariq Black and Nico Collins, but nothing has been easy. That also goes for the running game as freshman Zach Charbonnet has taken over as the top option with 196 yards on 4.6 yards per carry.
The Wolverines averaged less than five yards per carry in last year's win, but the Knights are allowing more than 215 rushing yards per game this year. Then again, Iowa and BC probably have better rushing games than Michigan. 
Michigan Defense Still a Force
But even if the Michigan offense doesn't click, a cover is still possible because this game could end 30-0, similar to the Iowa one. That's because Michigan's defense is still good, albeit maybe not elite like in 2018. It was torched by Wisconsin last week and gave up 21 points in each game against Middle Tennessee and Army. After losing a ton of players to the NFL, there's a lot of work for this group, but it's not like Rutgers has a better offense than any of those teams.
Artur Sitkowski has been named the starting quarterback for this game after he took over for the injured McLane Carter. There's not much of a difference between the two as they have a combined three touchdowns and six interceptions.
In last year's meeting, Sitkowski went 8-for-19 for 40 yards. Sitkowski has been focusing on one receiver in Raheem Blackshear (22 receptions), who happens to be a running back, and that probably won't work against Michigan. That's why they'll try and hand off the ball as much as possible to Blackshear and Isaih Pacheco.
Wolverine "D" Should Have Easier Time with Rutgers
It's hard to tell how good the Michigan run defense is because it was torched by Wisconsin and faced the Army triple option before that. If Rutgers can move the ball one-third as good as Wisconsin, that may be enough to cover. 
The under has hit in the last four road games for Rutgers, while the over has hit in Michigan's last four at home against a team with a losing road record. The Wolverines have also failed to cover their last four at home. The over has hit in the last five meetings between these teams.
Our Pick – This isn't a spot where we'd necessarily advise a play. Our numbers actually have Michigan winning in the 17 to 21 point range, which would dictate a play on Rutgers.
However, if Michigan can hang 70 on the board, they will, in order to hush up the boo birds. No question there is added incentive in this one for the WOlverines to not only win, but win big.
We'll go against our numbers and do a lean on Michigan -27.5, but just a lean.