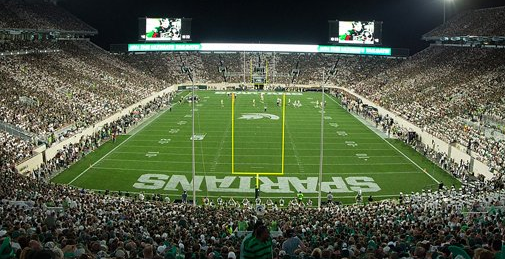 Michigan State hosts Arizona State as 13.5 point favorites, up from a betonline opener of 10.5.  The current posted total is 44.5.
Last year's matchup between Arizona State and Michigan State was kind of a microcosm for how the 2018 season went for both teams. The Sun Devils used a stout defense to compete in the Pac-12, while the Spartans didn't have enough offense to compete in the Big Ten. ASU won last year's meeting 16-13.
Michigan State's offense will be a main talking point yet again after it finally broke free from 2018's struggles and scored 51 points last week. While that was against Western Michigan, it's still relevant because the Spartans didn't score that much against anyone last year.
Elijah Collins 192 Yards
Maybe more importantly, they also may have found their running back of the future after freshman Elijah Collins took over and ran for 192 yards on 17 carries. He looks like the guy in the backfield and will likely be heavily used in this game.
Of course, Brian Lewerke still has to continue what he did last game, throwing for over 300 yards and a few touchdowns. He threw for 300 yards in last year's loss, but the Spartans managed 2.3 yards per carry and that limited everything else. 
It's still unknown how good Arizona State is after playing Kent State and Sacramento State in the first two games. Its defense could still be good, but it hasn't exactly played a real offense yet. It wouldn't be surprising if this matchup went exactly like last year's with neither team able to put points on the board consistently.
Sun Devils Offense to Struggle?
The Sun Devils could still be good defensively, but their offense may be in trouble all season. Outside of a 72-yard touchdown in the fourth quarter, they scored just 12 points against Sacramento State. Now playing on the road, that's not going to cut it against one of the best defenses in the country.
Quarterback Jayden Daniels may have a big future ahead of him, but this will be a completely different test for him as Michigan State will be in his face all game after Kent State sacked him five times.
While Eno Benjamin is a stud at running back, he can't do it all behind a mediocre offensive line. This offense averaged 2.3 yards per carry as a team last game and Benjamin is averaging 3.7 yards per carry in two games. 
Simply put, that offense probably won't be enough to secure an upset. Michigan State will likely want some revenge after losing last year's matchup and considering ASU scored three points in the first quarter of that game with Manny Wilkins at quarterback, it's likely more troubles are ahead.
This one may come down to whoever scores 10 points first, at least that's the hope for ASU. The Sun Devils haven't covered in their last four games, while the under is 9-1 in MSU's last 10.
Our Pick – The total for this game is 44.5 and we actually project the total points scored to be in the 30's. That tells you the type of game to expect. With that in mind, taking the boatload of points would be the way to go.
Arizona State +14 or better and Under 44.5
Read our season previews for Michigan State and Arizona State