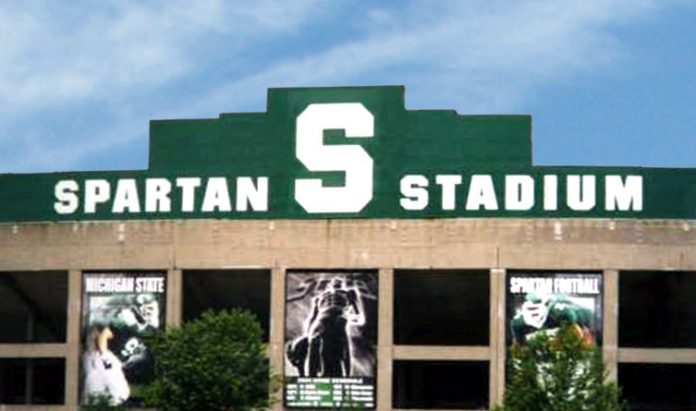 Michigan State disappointed most of last season, from scoring 13 points at Arizona State to just six against Oregon in the Redbox Bowl. The defense kept them alive at times, but wasn't enough to win more than seven games.
After some coaching switches within staff, the Spartans will hope that jumpstarts the offense after managing only 18.7 points per game. They're expected to finish fourth in the Big Ten East with an opening over/under of 7.5 wins at 5Dimes Sportsbook.
Brad Salem Takes Over the Offense
Brad Salem, former quarterbacks coach, is the new coordinator and that brought some hope after Brian Lewerke threw for 181 yards and a couple touchdowns in the spring game. Lewerke was a big reason the offense fell off last season, though some of that had to do with injury.
After throwing for 20 touchdowns and seven picks in 2017, Lewerke couldn't do anything right last year with eight touchdowns and 11 interceptions, while struggling to find the same kind of holes with his legs.
The good news is that the line returns four starters and should improve after MSU ran for just 3.5 yards per carry as a team. Connor Heyward (529 yards) and La'Darius Jefferson will get most of the rushing work, but without LJ Scott, some younger guys will likely steal time.
To help Lewerke more is that receiver Cody White (555 yards) is back for another year with Darrell Stewart (413 yards) and speedster Jalen Nailor. At the least, the offense can't be worse than last year.
Spartans Defense Looks Solid Again
Even better is that MSU's defense should be just as good after allowing just 312 yards and 18 points per game. Outside of corner Justin Layne, the Spartans return every relevant piece including studs along the line with Raequan Williams and Kenny Willekes two of the best in the conference.
After allowing only 81.3 rushing yards per contest, that group should again keep MSU competitive no matter the opponent. It's a similar situation at linebacker with All-Big Ten performer Joe Bachie the leader of the unit.
While Layne is gone from the secondary, there's still a lot of experience to work with from cornerback Josiah Scott to safety David Dowell. All signs point to this defense being one of the best in the country yet again.
Looks Like 8 or 9 Wins for the Spartans This Season
That defense will help the Spartans get out to a 3-0 start, as long as they can take down Arizona State this season. Things are a little more difficult from there with three of their next four on the road against good competition in Northwestern, Ohio State and Wisconsin.
Throw in a November trip to Michigan and this is one of the harder schedules in the conference. While they have a favorable slate at home outside of Penn State, it's hard to ignore the road gauntlet, which will likely keep the Spartans from winning the East.
However, with plenty of returning talent and some hope on the offensive side if Lewerke can return to 2017 levels, it wouldn't be surprising if MSU pulled off a road upset or two against top competition.
2019 Michigan State Spartans Football Schedule
Aug. 30 vs. Tulsa
Sept. 7 vs. Western Michigan
Sept. 14 vs. Arizona State
Sept. 21 at Northwestern
Sept. 28 vs. Indiana
Oct. 5 at Ohio State
Oct. 12 at Wisconsin
Oct. 26 vs. Penn State
Nov. 9 vs. Illinois
Nov. 16 at Michigan
Nov. 23 at Rutgers
Nov. 30 vs. Maryland