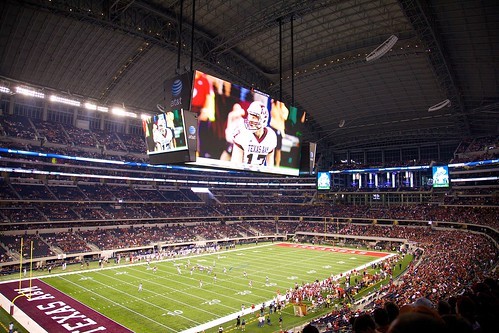 This is a battle at the bottom of the SEC West, but you wouldn't know it by looking at the spread. Texas A&M was an early -23 point favorite with an over/under of 59.5 against Arkansas.
It was kind of the same situation last year when these teams met, yet playing in AT&T Stadium kind of revived the Razorbacks and they put up a fight.
While they lost 24-17, they came in as a 20-point underdog and battled throughout even after going down 17-0 early. Outside of A&M rushing for 176 yards on 3.8 yards per carry, neither team did anything that well offensively which is why the score was so low. 
But why would anyone back Arkansas after it just lost at home to San Jose State, a team who had one win last year? That's a good question. There are still some positives for the Hogs no matter what the numbers show.
Nick Starkel is somewhat of an upgrade at quarterback from last year despite throwing five interceptions against SJSU. He's averaging 8.0 yards per attempt and has solid receivers in Trey Knox, Mike Woods and tight end Cheyenne O'Grady.
The rushing attack also has talent between Rakeem Boyd and Devwah Whaley. The question is what those guys can do because this is the toughest defense they will have faced and they averaged 2.1 yards per carry in last year's meeting.
A&M has two losses, but it's hard to fault them for losing to Clemson and Auburn. In the process, their defense has been stout, even with a couple slip ups in each loss. There's a chance the Aggies defense dominates again and forces a few more turnovers out of Starkel. 
To cover a three-touchdown spread you need to score, though, and that's something they didn't do last year. The Arkansas defense is at about the same level as last year so there will be opportunities for A&M to run up the score.
However, Kellen Mond hasn't looked much improved this season and he struggled at AT&T Stadium last year, tossing two picks with no touchdowns. Overall, Mond has been mediocre, averaging 7.4 yards per attempt and while a lot of that has to do with Clemson and Auburn, he hasn't given many reasons to trust this offense.
The ground game has been fine between Isaiah Spiller and Jashaun Corbin, which will likely be the main route of attack in this game.
A&M has the better overall team, but there could be something about playing in the huge AT&T stadium that makes this matchup more competitive.
Last year, it amped up Arkansas, the underdog, while possibly putting more pressure on Mond to succeed as a big favorite. Given the inconsistencies of both teams this year, it wouldn't be surprising if that happened again.
The Aggies are 5-1 ATS in their last six following an ATS loss, while the Razorbacks are 1-5 ATS in their last six overall. The over is 5-1 in A&M's last six neutral-site games, but the under is 8-1 for Arkansas in its last nine following an ATS loss. 
Our Pick – Texas A&M -23