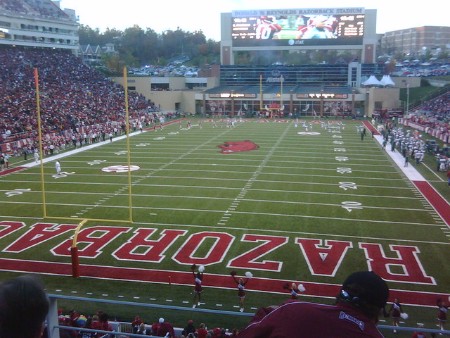 Auburn is looking to bounce back after their tough loss at Florida 2 weeks ago, and thankfully for them they get to face a 2-4 Arkansas Razorbacks team who has lost 4 straight.
Freshman QB Bo Nix finally had that poor performance most young QBs in the SEC have when they face a tough defense on the road, with only 145 yards passing and 3 interceptions.
He just couldn't get the offense rolling in the second half to come from behind.  Arkansas got off to a hot start last weekend against Kentucky, but couldn't hold on as Kentucky scored a late touchdown to win 24-20. 
Arkansas is in a rebuilding stage of their program with 2nd year head coach Chad Morris, they went 2-10 last year still with the teeth of their schedule remaining against Auburn, Alabama and LSU to name a few the key is for this team to finish strong.
They are led this year by running back Rakeem Boyd, who has over 600 yards rushing this year to go along with 5 touchdowns.  Last week he had a season high 134 yards rushing and two touchdowns, highlighted by a 74 yarder in the first minute of the game.
Razorbacks junior QB Nick Starkel has had an up and down season, with last week being the lowest as he was 7 for 19 for only 41 yards passing. He has 7 touchdowns and 7 interceptions on the year, with 5 int's coming in one game.
This is clearly a learning year for him and the other young Razorbacks. While Auburn's freshman sensation Bo Nix was coming off this best game of the year against Miss State before heading to the swamp where so many young QB's and veteran QB's struggle.
He has an impressive 8 touchdowns passing and two more rushing this season to go along with 1125 yards passing yards.
Auburn will be a 19 point road favorite this week. The last three times these teams have met Auburn has won by an average of 38 points.
The over/under is 55.5 this week which seems low, as I can see Auburn scoring 42 themselves and Arkansas is averaging 27 points per game this year. 
Predicted Score – Auburn 42 Arkansas 17