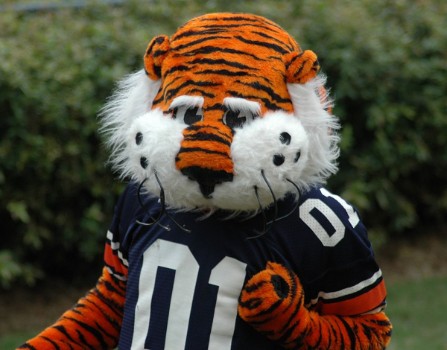 After scoring a breathtaking come from behind 27-21 win over the #11 Oregon Ducks, #10 Auburn Tigers will host the Tulane Green Wave. Auburn opened as 19 point favorites, but the line has dropped to 18. The game is almost evenly bet with 53% of the action on Auburn versus 47% for Tulane.
It was amazing that the Tigers were able to get their season started on the right foot after trailing Oregon 21-6 midway through the third quarter. They face a weaker opponent this week and a straight up win is almost a certainty, but if they are going to cover the three score spread then they will need to come out with guns blazing in the first half of this football game.
Freshman QB Bo Nix was an abysmal 13 of 31 for 177 yards, two TDs and two INTs. He needs to grow up quickly if his national championship contender team is to stand any chance at fulfilling those dreams. Nix will have his work cut out for him as Tulane DE Patrick Johnson, who leads the NCAA in sacks among returning players after getting to the QB 10.5 times last year, will have his sights on him early and often.
Auburn Head Coach Gus Malzahn was quoted saying that his team needs to put this game in the rear view. This weeks opponent should provide them with a nice breather and a chance to regroup from a miraculous win. The focus will be on more offensive production. Auburn can't count on their defense to bail them out every game.
Ground Attack "key" for Green Wave
Tulane produced a staggering 545 total yards in their 42-14 win against Florida International last week. 350 of those yards came through the running game which averaged 7.1 yards per carry.
Tulane's defense, while very good, would be aided by a strong effort from their running backs who could allow lots of time to tick off the clock thus resulting in more rest for them. Senior RB Darius Blackwell, who scored in eight different games last year, anchors the backfield for Tulane.
If Tulane's defense can be effective and the running game keeps them off the field it could produce the perfect storm needed for this team to keep it close and cover the 18 point spread.
They will need everything to go their way. Facing an SEC defense like Auburn's is a tall task for any opponent, but especially a humble team like the Tulane Green Wave.
Auburn Defense off to a Ferocious Start
Things looked shaky in the first half against Oregon, but Auburn was able to bear down and pitch a second half shutout against one of the most highly touted teams in the country. If they play anywhere close to that level against Tulane, it will be lights out for the Green Wave and potentially a blowout win for the Tigers.
Defense wins championships and that's what this team is hoping for; championships. Not only in the SEC, but in the College Football Playoffs. If this is the team everyone thinks they are then they will have no problems with Tulane.
Our Pick – Auburn -17.5