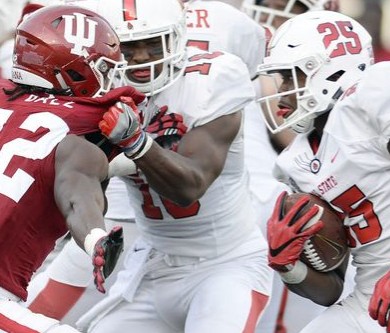 Indiana and Ball State kick off their 2019 college football season on August 31st at Lucas Oil Stadium. The Hoosiers opened -17 at 5 dimes sportsbook. That line is now -16.5 with a total of 59.
This game between Indiana and Ball State has attracted very little betting action. In fact, it's one of the least bet games on the board in week 1. But that doesn't mean there isn't an opportunity for the alert bettor.
Indiana got off to a good start last season at 4-1 but ended up at 5-7 after only winning two Big 10 games. They were 5-7 last season and also 5-7 ATS, but they easily covered the 15-point spread facing Ball State, which was their 3rd game of the season.
Ball State is coming off a season to forget going 4-8 and 3-5 in MAC play. They were 5-7 ATS last season and did cover the spread in two of their three non-conference games with the one they failed to cover being the bad loss to Indiana.
Indiana looks for repeat performance
 Indiana is 6-3 all time in this series with Ball State and look to repeat last season's performance against them. In that game the Hoosiers had 100 more total yards (447 to 347) and they rushed for 255 yards en route to a 38-10 win.
RB Stevie Scott is coming off an impressive freshman year in which he rushed for 1,137 yards including rushing for 114 yards, averaging 6.3 yards per carry, and 2 TD in the win over Ball State. Look for him to get a lot of carries in this game facing a Cardinals' run defense that has a lot of concerns and only ranked 119th in the nation last season.
Peyton Ramsey returns under center after passing for 2,875 yards last season with 19 TD and 13 TD and while the Hoosiers have a decent WR corps their top WR from last season in Nick Westbrook is dealing with an injury and is listed as questionable for this game.
Indiana only ranked 83rd in the nation last season on defense but have some key players back. Last season they only gave up an average of 18 ppg in their three non-conference games.
 Ball State Looks to Rebound
The Cardinals did not have a good 2018 and look to rebound this season. Drew Plitt takes over for Riley Neal, who transferred to Vanderbilt, at QB and he has a solid and veteran laden WR corps and last season Ball State led the MAC in passing offense.
James Gilbert led the Cardinals in rushing last season with 659 yards and he transferred to Kansas State. Neal had the 2nd most rushing yards, and WR Malik Dunner having the 3rd most. The strength of the Cardinals is their passing game, but a RB has to step up to take some pressure off Plitt.
One thing Ball State has going for them is that they face an Indiana pass defense that may be the weakness of the defense and gave up at least 240 passing yards in six of their last seven games last season.
Our Prediction
Last season Ball State was in a tough spot heading into the Indiana game. The week prior, they took on Notre Dame. They gave the Irish a battle and came up short by a score of 24-16.
It was a classic let down situation for Ball State. Playing Notre Dame was a once in a lifetime opportunity for most of those kids. It was the biggest football game most of them have ever played in. They then had to get right back at it and get up for the Hoosiers.
This year, there's no such problem. It's the first game for both teams. They'll get each others best.
Ball State has proven to be able to compete with Indiana. They lost by 10 in 2016 and won outright in 2008, 2011, 2012. Those years have little to do with this game other than to illustrate that Ball State can recruit the talent to compete and it's no fluke when they do.
The score at the half last year was 24-3 Hoosiers. We'd be surprised if Ball State allowed that to happen again this year.
Our Picks – Ball State + in the 1st quarter and 1st half and Ball State +16.5 for the game.