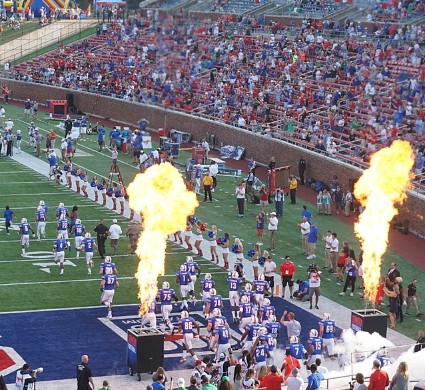 SMU hits the road in their season opener facing an Arkansas State team that is a 3-point favorite and went 8-4 last season. The total for this non-conference game is posted at 58 at 5 dimes sportsbook.
SMU went 5-7 last season missing out on a bowl dropping their last two games. They are replacing their QB, but that may not be the biggest issue for the Mustangs, who only ranked 91st in the nation on defense last season.
The Mustangs were also 5-7 ATS last season and they have failed to cover the spread in eight of their last 10 road games.
Arkansas State finished last season on fire winning their last four games and fell to Nevada in OT in the Arizona Bowl. While the Red Wolves led the Sun Belt conference in overall offense, they, like SMU, lost their starting signal caller.
State was 6-7 ATS last season and the last time they met SMU in the 2017 season they lost 44-21.
Mustangs Have Talent, but Question Marks as Well
Ben Hicks is gone and taking over at QB will be Shane Buechele, who transferred from Texas. Xavier Jones is the leading RB coming back and after rushing for over 1,000 yards in 2017 he only rushed for 311 yards last season. The Mustangs also have a few young RB's in the fold such as TaMerik Williams, TJ McDaniel, and Ulysses Bentley IV.
The Mustangs will face an Arkansas State defense that returns seven starters and eight of their top 10 tacklers from last season. The Red Wolves have a very good secondary, but the run defense, which only ranked 91st in the nation last season, is a concern.
SMU was a pass heavy team when behind and they need to establish the run early in this game and not rely on Buechele to carry the team with his arm.
Bonner has the Targets
Logan Bonner is the new Arkansas State QB and he inherits the best WR in the Sun Belt conference.
WR Kirk Merritt had 1,005 receiving yards last season and the Red Wolves spread the wealth around with the passing game and look to do so again.
Marcel Murry led the Red Wolves with 860 rushing yards last season with eight TD and also averaged a legit 5.6 yards per carry. He has a lot of pressure on him since the team has a thin RB corps.
SMU was a little better against the pass than against the run last season for a defense that was beset by injuries. Many players return up front and in the secondary and the D may be much better than last season.
The Mustangs pass rush led by Richard Moore (13.5 tackles for loss, 5 sacks) and Delontae Scott (4.5 sacks) will be up against a decent Red Wolves offensive line and they need to pressure the inexperienced Bonner.
Our Prediction
SMU is only 1-4 ATS in their last five non-conference games and Arkansas State has failed to cover in six of their last seven non-conference games. SMU did lose their starting QB, but Buechele may be an upgrade after being a highly touted prospect when joining Texas.
Two teams with plenty of returning starters in all the right places figure to make this a pretty good, close game. After an 0-3 start last year which led to coming up short for a Bowl game, we look for SMU to kick off 2019 with a win.
Our Pick – SMU +3
Read our season previews for SMU and Arkansas State