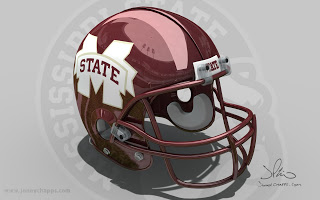 As we preview Mississippi State football from a betting perspective, the first number to note is their over/under win total for the season, set at 8. That number is available at all top offshore sportsbooks.
Eight was the total wins accumulated by Miss State last season. So, the handicappers job as far as betting the season win total is concerned, is to determine whether the Bulldogs will be better, or worse, than a year ago.
Not A Bad Start for HC Joe Moorhead
Things went as well as expected for Joe Moorhead in his first season at Mississippi State. He lead the team to an 8-5 record, albeit ending with a loss to Iowa in the Outback Bowl. Getting past Auburn and Texas A&M were the biggest feats, but expecting road wins in those matchups this season will be a little tougher.
It also doesn't help that studs are gone from both sides of the ball, which is why the over/under opened at wins. Miss State is projected to finish fourth in the SEC West.
QB Nick Fitzgerald's Replacement(s) Up to the Task
Replacing quarterback Nick Fitzgerald is the biggest thing for the offense. He had a solid collegiate career, closing with 29 total touchdowns and 1,121 rushing yards as a senior.
The good news is that Keytaon Thompson already has some experience and was just as potent as Fitzgerald with his legs when he was on the field. That should help the Bulldogs at least match their offensive production from last year, rushing for 223.6 yards per game, though getting more through the air is still needed.
Redshirt freshman Jalen Mayden pushed for time in the spring. He could easily steal Thompson's spot before the season is over, and that was before Tommy Stevens transferred over from Penn State in May.
Running back is set with last year's leader Kylin Hill (734 yards) and senior Nick Gibson taking up a bigger role. The hope for them is that the offensive line doesn't take a step back after it lost a couple starters.
While a lot of linemen are moving positions, most of them have some kind of experience so that should help them gel throughout the year.
Receiver isn't much of a question with all of the top guys back in Stephen Guidry (440 yards), Osirus Mitchell (427 yards), Deddrick Thomas (256 yards) and even Malik Dear if he can stay healthy.
Defensive Strength is at Linebacker Position
Of course, defense led the team last season and a step back wouldn't be surprising after allowing just 12 points per game. Even with multiple guys moving to the NFL, they should still be stout with one of the better linebacking corps in the SEC behind Erroll Thompson (87 tackles), Leo Lewis and Willie Gay.
In the secondary, corners Cameron Dantzler and Maurice Smitherman return to their previous roles. Safeties Brian Cole and Jaquarius Landrews also return.
The defensive line is where the questions lie even with seniors Lee Autry and Chauncey Rivers there to help out. Moorhead was brought in to revive the offense, but it was the defense that led the way in 2018 and if this team is to improve at all, it'll be up to the offense.
Under 8 Wins Looks Like the Smart Bet
The schedule should be manageable, as it's not much different from last season. If things go well, a 4-0 start is expected before the opponents pick up with trips to Auburn and Tennessee.
They should beat the Vols and that would help them reach eight wins again because that'll give them at least one road win. Otherwise, home games against LSU and Alabama could be trouble for a new starting quarterback, while the road games at Texas A&M and Arkansas aren't free wins.
The blueprint is there for another eight wins in the regular season. That means they can't lose any game they're supposed to win. Either that or the Bulldogs will need to pull off a major upset, which maybe won't be surprising if the defense is elite again. Still, given the loss of talent, it's hard to see this group improving from last year's record.
2019 Mississippi State Bulldogs Football Schedule
Aug. 31 vs. Louisiana-Lafayette (Mercedes-Benz Superdome, New Orleans)
Sept. 7 vs. Southern Mississippi
Sept. 14 vs. Kansas State
Sept. 21 vs. Kentucky
Sept. 28 at Auburn
Oct. 12 at Tennessee
Oct. 19 vs. LSU
Oct. 26 at Texas A&M
Nov. 2 at Arkansas
Nov. 16 vs. Alabama
Nov. 23 vs. Abilene Christian
Nov. 28 vs. Ole Miss