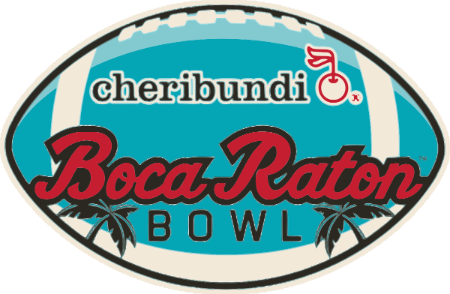 ***NOTE – Multiple FAU players will miss today's game due to academic reasons.
Florida Atlantic was in the Boca Raton Bowl two years ago and it won 50-3 against Akron. This matchup is different in a lot of ways, the first being that Lane Kiffin is gone and the second being FAU is not a huge favorite. In fact, SMU was an early -3 point favorite with an over/under of 70 in what is basically a road game.
The Mustangs had an impressive campaign behind Sonny Dykes, who took the team from 5-7 to 10-2 in one season.
As for the Owls, they finished 10-3 and won C-USA, but they also lost Kiffin. Interim coach is defensive coordinator Glenn Spencer, but the players also have future head coach Willie Taggart looking on.
While they were destroying teams late in the season, they have a couple losses at home, so beating them isn't out of the cards.
The difference between these teams is that FAU has a serviceable defense, allowing 22.3 points per game and 3.8 yards per carry. They carved through most of C-USA, though slipped up against Marshall, their biggest competition.
SMU pretty much had offensive success against everyone, scoring 43.2 points per game. The Mustangs dropped 41 points at TCU early in the season and they still scored plenty in both of their losses.
That's because Texas transfer, quarterback Shane Buechele, has been awesome. He averaged 8.2 yards per attempt and more importantly tossed 33 touchdowns and nine interceptions.
Top receiver James Proche was his go-to guy with 1,139 yards and 14 touchdowns, but two other receivers also surpassed 600 yards. Even better was running back Xavier Jones, who churned out yards every game en route to 1,249 yards and 21 touchdowns on 5.4 yards per carry.
Considering this offense carved up everyone in the AAC, there's no reason it can't do the same against FAU, which is what fellow AAC team UCF did early in the season (48-14 win). 
The other side of the ball is where problems occur for SMU and that's why it lost 54-48 to Memphis. The Mustangs have a decent run defense, allowing 3.8 yards per carry, but they gave up more than 280 passing yards and 31 points per game. Those aren't great numbers on the road against a team that dropped 49 points in a conference title win.
That said, the absence of Lane Kiffin is a relevant one. This is a good team, but they made a complete turnaround two of the last three seasons and that was mostly because of Kiffin.
Either way, quarterback Chris Robison has had a stout season, averaging 7.8 yards per attempt for 26 touchdowns and six interceptions. There are questions about efficiency after failing to complete more than 50% of his passes in the final two games, but he also threw seven touchdowns in big wins.
Tight end Harrison Bryant and receiver Deangelo Antoine have been his top targets both with more than 60 receptions and a combined 1,775 yards and 12 touchdowns. Malcolm Davidson has been the playmaker out of the backfield averaging 7.0 yards per carry, but they average 4.2 ypc as a team with BJ Emmons the other top RB of late.
That passing game is reason of concern for SMU's troublesome defense, yet without Kiffin, it's a wonder if it'll be as potent. Then you have SMU's offense which has scored on everyone this season. 
The under has hit in SMU's last five bowl games, but the over has hit in its last six non-conference games. FAU has covered its last four against a team with a winning record.
Our Pick – We have to admit to being conflicted here. On the one hand, we have our numbers and what they suggest. On the other hand, we have our perception, from a season of watching college football.
On top of that, we have a tricky motivational situation to analyze.
First, the numbers…..
The numbers suggest Florida Atlantic is the side. Our model has Florida Atlantic winning straight up regardless of the time frame parameters used.
In otherwords, whether we use data from the entire year, the 2nd half of the year, the last 4 games, etc., it comes up Florida Atlantic every time by a margin of anywhere from 3 to 8 points.
Our Perception…….
According to our stats and power ratings, these two teams have played a schedule strength that was relatively equal. A large part of that though, is the fact that FAU played Ohio State and UCF to start the year. That was followed by a long list of cupcakes.
SMU however, was more impressive when they stepped up in class. For example, beating a TCU team that was able take Baylor to OT and lost to Oklahoma by just 4.(They also knocked off Texas and played Kansas State close).
SMU also went head to head with a very good Memphis squad, losing a 54-48 shootout and also lost by a TD to Navy.
While UCF and SMU did not play this year, you get the sense that if they did, it would have likely been a very good, competitive game. Yet, UCF clobbered FAU 48-14 early in the season.
Tricky Motivational Situation
When handicapping Bowl games, you always have to consider the motivational angles. Will one team be extremely motivated? Will another team just go through the motions? Disinterested?
A Bowl game is a reward for a job well done. Usually it involves travel to a nice, warm location and all of the excitement that comes with that. Florida Atlantic however, was rewarded with just an extra home game. Hardly anything to get excited about.
Lastly, FAU loses their coach to Ole Miss. Will that impact motivation and if so, in a negative or a positive way?
Bottom Line…
While our numbers suggest Florida Atlantic plus the points has value, we are going to go against the data. The feeling here is that despite what the numbers suggest, SMU is the stronger team and the motivational edges look to favor them as well.
SMU -3