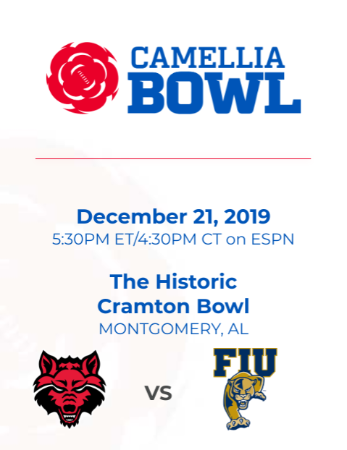 The Camellia Bowl won't be an easy game to pick between two teams who have been all over the place. Played in Montgomery, Alabama, Arkansas State has about a five-hour shorter drive and that's probably why it was an early -2.5 point favorite with an over/under of 62.5.
The Red Wolves are five hours from the stadium and also probably have the best unit in this matchup, their offense. They've been able to score on pretty much everyone outside of Georgia, averaging 36.7 points per game.
Of course, their defense let them down numerous times, including the regular-season finale when they fell to two-win South Alabama. The week prior, they picked up their first win against a bowl team (Georgia Southern).
Florida International was probably worse if you throw out the win against Miami. Other than that win, the Panthers didn't beat anyone of relevance and outside of coming close against Marshall in the finale, they were blown out by the best teams in C-USA. 
FIU's defense has a huge task in this game after what has been a mostly down season. While it's allowing a decent 26.7 points per game, it's giving up more than 200 rushing yards per contest on 5.1 yards per carry.
The Red Wolves don't have a great rushing offense, but they're at least a balanced group. Running back Marcel Murray finished at 5.1 ypc with 782 yards, though didn't surpass 3.0 ypc in the final two games.
This offense is more reliant on the pass where quarterback Layne Hatcher averages 9.9 yards per pass for 23 touchdowns and nine picks in eight starts. While top wideout Omar Bayless has been awesome with 1,473 yards and 16 touchdowns, Jonathan Adams and Kirk Merritt have combined for 122 receptions.
That should be an interesting matchup because FIU had one of the better pass defenses in the country, allowing 178.5 passing yards per game and 6.5 yards per attempt. Some of that had to do with giving up a ton of rushing yards, but that's still a great number.
The other side of the ball is where the problems have come for Arkansas State, as it's allowing 7.4 yards per pass and 5.1 yards per rush. Simply put, the Red Wolves haven't stopped anyone.
FIU may not be as explosive, but it got the job done against Miami and Marshall late in the season. Quarterback James Morgan is there to run the offense, averaging 7.0 yards per pass for 13 touchdowns and three interceptions.
The Panthers are reliant on running backs Anthony Jones and Napoleon Maxwell, who have combined for 1,411 yards and 17 touchdowns. While they haven't been consistent, that may be enough against this defense.
Arkansas State may get more money because of its high-flying offense, but ending the season with a bad loss to South Alabama isn't a good look. As long as FIU can move the ball, there's a decent chance for an upset.
Florida International is 5-1 ATS in its last six following an ATS win, but 1-5-1 ATS in its last seven on a neutral field. The over is also 5-1 in its last six against a team with a winning record. Arkansas State is 1-5 ATS in its last six non-conference games and 1-5 ATS in its last six against C-USA.
Our Pick – With something like 40 Bowl games, it should come as no surprise that there will be some that we have absolutely no interest in. With that, I present to you, Arkansas State vs. Florida International.
This is simply two mediocre low end college football teams, being used as space fillers in an already overbooked December 21st Bowl schedule.
Our model likes Arkansas State to come out on top by 4 to 9 points. Of course, while anything can happen in bowl games, that notion is usually magnified in matchups like this. This is a weak lean at best.
Arkansas State -2.5 and OVER 62