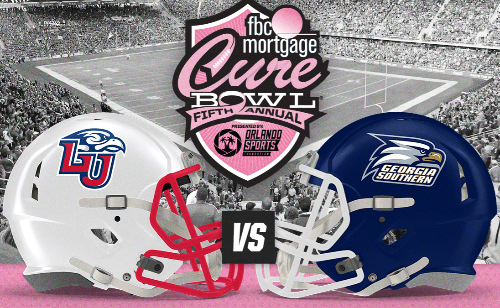 Georgia Southern joined FBS five years ago and this was the first full FBS season for Liberty, so both teams are relatively unknown on a national scale. They both finished 7-5, but the Eagles have a better resume and opened as -5 point favorites with an over/under of 60.5 for the Cure Bowl in Orlando.
Not many people will want to bet Liberty if they take a simple look at its schedule. The Flames had seven wins, but outside of the random Buffalo victory, they swept a two-win NMSU team and beat a few others who were no good.
Both teams lost to Louisiana early in the season with Liberty falling 35-14 and Georgia Southern losing 37-24. In addition to the Eagles putting up a better fight in that matchup, they got better as the season went along picking up wins against the likes of App. State and Georgia State.
Maybe most relevant to this game is that they beat NMSU 41-7, who Liberty beat 20-13 on the road and then 49-28 at home in the regular-season finale.
Can Liberty Stop The Triple Option?
The best way to stop Georgia Southern is by stopping the triple-option and while getting the extra couple weeks to prepare, it's a lot different when you get out on the field, especially if you didn't see anything like it during the regular season.
It doesn't help that the Flames had a mostly bad defense, allowing more than 420 total yards per game with 192 of those on the ground at 4.7 yards per carry.
That's simply not going to work against quarterback Shai Werts and the slew of tail backs. Werts had a solid 676 rushing yards on 4.5 yards per carry, while Wesley Kennedy was the explosive option with 6.9 yards per carry for 760 yards and 10 touchdowns.
Leading rusher J.D. King (776 yards) averaged just 4.4 ypc and he was the team's best rusher in the final couple games. If all goes well, Werts won't be asked to pass because he only passes when Georgia Southern are in a dire situation, which is how the triple-option operates.
The question is what Georgia Southern's defense can do because it was all over this season from keeping App. State and GSU in check, to giving up 49 points to Troy.

Overall, the Eagles were solid yardage wise and gave up 3.8 yards per carry, while their 28.6 points per game allowed was partly due to early contests against LSU and Minnesota.
Liberty's offense was a little harder to peg down, though it seemed to figure things out late with the 27 points scored against Virginia an impressive feat. Of course, it also scored 17 points against lowly New Mexico.
Hugh Freeze Gets Contract Extension
The Flames run a balanced offense behind head coach Hugh Freeze, who extended his contract before this game. Quarterback Stephen Calvert had an impressive campaign, averaging 8.6 yards per pass for 26 touchdowns and five interceptions. He mostly glued onto one guy in Antonio Gandy-Golden, who has 1,333 yards and 74 receptions.
That's almost 1,000 yards more and double the receptions as the next best receiver. Their rushing attack has also been stout between Frankie Hickson and Joshua Mack, who both average at least 5.6 yards per carry.
It's important to keep in mind the schedule Liberty faced and that it failed to score in the second half against Louisiana, another Sun Belt team. Given how its defense has performed, it may be a little easier to bet the reliable triple-option against a bad defense.
The under is 5-1 in Liberty's last six games as an underdog, though the over is 4-1 in its last five overall. The over is also 4-1 in Georgia Southern's last five overall.
Our Pick – We'll take the #11 ranked team in the nation in rushing yards per game over the 107th ranked defense, in terms of rushing yards allowed.
Georgia Southern -4.5