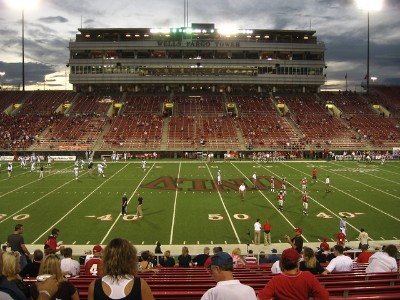 The undefeated Boise State Broncos head into Vegas Saturday night looking to continue their hot start to the season. Boise beat a tough Air Force 30-19 their last time out on September 20th.
They were tied 10-10 at the half, but star freshman QB Hank Bachmeirer came up big in the second half, able to shake off a few big hits to step up and convert big 4th and 10 and follow that up two plays later with a  28 yard TD pass to tight end John Bates.
The next drive Boise stopped Air Force on 4th and 1 and followed that up with two rushing touchdowns by Robert Mahone that put the game out of reach.

UNLV is in the middle of a three game losing streak, most recently losing 53-17 to Wyoming. Kenyon Oblad got his first start of the season, but didn't look great with 2 interceptions and zero touchdowns. UNLV's defense is the real problem this season, allowing 37.3 points per game.
The one bright side for UNLV this season has been running back Charles Williams who leads the team with 472 yards and 6 touchdowns, as the Rebels have been able to put up and average of over 200 yards rushing per game this season.
Boise has been more of a pass first team this year, but junior Robert Mahone has been solid for them with 288 yards and 4 touchdowns on the year.
Freshman QB Hank Bachmeier has been very solid this season, beginning with a spectacular 400 yard come from behind performance week 1 against Florida State. The last three games he has averaged 261 yards passing with a total of 5 touchdowns to only 2 interceptions.
The one characteristic all of his coaches and teammates consistently describe about him is his toughness. He has taken some big hits this season and got up off the mat and kept on going. Only a freshman he has a bright future and in this pass first offense he could be in line to put up huge numbers in the upcoming seasons.
These two teams have played five times over the last 8 years with Boise winning all five. But UNLV has found a way to cover 4 of the 5 matchups. 
Predicted Score – Boise State 45 UNLV 14