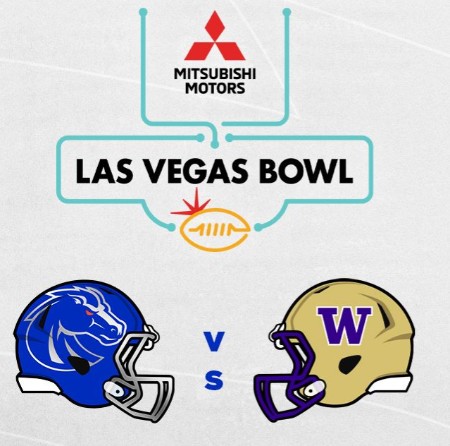 This is the classic good matchup in the first weekend of bowl games and it happens to be the Las Vegas Bowl, so there will be plenty of money involved.
Most intriguing is that Washington head coach Chris Petersen, formerly the coach at Boise State, is stepping down after this matchup. Despite finishing at 7-5 (4-5 in the Pac-12), the Huskies were early -3.5 point favorites with an over/under of 50.
It's been an ugly season for Washington and it started early, losing at home to Cal. Things seemed to get better here and there, but the late loss to Colorado took away any good feelings. Both sides of the ball took a step back compared to previous seasons and that's what resulted in a down campaign.
As for Boise State, it was a pretty normal year, as it's been in the MWC title game three straight seasons. The Broncos beat a bad Florida State team early and their only loss happened to come against BYU, who beat USC, who lost to Washington.
But while they beat Oregon in the Las Vegas Bowl two years ago, this isn't exactly the same team. The defense is far from dominant and the offense is somewhat all over the place. The MWC was down as a whole and that helped in their unblemished record.
Nothing stands out for either of these teams, though Washington was somewhat solid defensively, giving up 20.4 points per game and 3.8 yards per carry. It was better late in the season, but some of that can be attributed to schedule.
Boise State hasn't played an elite defense all season so this matchup isn't anything new. The Broncos are a balanced group that has used three different quarterbacks throughout the year.
Hank Bachmeier lost his job following injury and Jaylon Henderson has held onto the role despite everyone being healthy. Henderson closed with 7.8 yards per attempt for 11 touchdowns and two picks.
No matter who was at quarterback, receivers John Hightower, Khalil Shakir and CT Thomas all provided when needed. The ground game was eventually taken over by freshman George Halani who ran for 979 yards on 5.4 yards per carry.
Boise had similar defensive numbers playing in a worse conference, giving up 20.6 points per game and 3.5 yards per carry. They looked better, but had some questionable performances, namely allowing 42 points to SJSU in the middle of the season.
The problem with betting the Huskies is that their offense has been unreliable all season. For the most part, they were unexplosive behind quarterback Jacob Eason, who averaged 7.8 yards per pass for 22 touchdowns and eight interceptions.
Top receiver Hunter Bryant won't play in the bowl game, which means Aaron Fuller could see a few more targets. They'll likely try and lean on the rushing attack between Salvon Ahmed and Richard Newton, but that's also been inconsistent, highlighted by the ugly Colorado performance.
One would think Washington would want to send Petersen out on a high note, but this team has had issues. Betting on this offense to win by more than three points against a solid Boise team won't be easy. Of course, all seven of UW's wins have come by double digits so if you like them, you might as well take the points.
Boise State has covered in its last seven games as an underdog and the under is 9-2 in its last 11 against a team with a winning record. The under is 5-1 in Washington's last six games as a favorite.
Our Pick – Strictly from a numbers standpoint, our numbers using data from the entire season have Washington by a TD. When we use only the last 7 games, that margin shrinks to 4. Lastly, if we look at only the last 4 games, the model predicts a tie.
The above would suggest that perhaps Boise State is in better "current form".
However, there is another angle to explore here and that would be a motivational one. In otherwords, perhaps one team wants this game a little more, or A LOT more, than the other.
The feeling here is that Boise State may have that motivational edge. For starters, they were snubbed once again from a major bowl game.
Furthermore, the Las Vegas Bowl will move to a new stadium in Vegas next year which is being built for the Raiders. When that move occurs, the Las Vegas Bowl will no longer be inviting the Mountain West Conference. It will still have the PAC-12 and will alternate SEC and Big 10 teams.
So, once again, Boise State (and the conference they represent) gets snubbed. Basically, they are being told they aren't good enough for the Las Vegas Bowl.
Now, that's some nice motivation for a team that has always been a "giant killer".
But it doesn't end there. Washington coach Peterson was the head coach at Boise St from 2006-2013. For 4 of those years, current Boise coach Bryan Harsin was his offensive coordinator. They faced each other in 2015 with Harsin and Boise State winning a close one 16-13.
Lastly, speaking of Chris Peterson, he unexpectedly resigned in early December. The move caught the program and it's players off guard. Frankly, it's the last thing you want heading into a bowl game.
As a result, there are a couple of players that have decided not to play in the bowl game and it was even rumored that QB Jacob Eason would also pass on the Bowl game.
Either way, it shows that Peterson stepping down had a negative impact on the Huskies.
With all of the above in mind, we're going to back Boise State here, with the thought being that they will be the more motivated of the two teams in what would  otherwise be a toss up.
Boise State +3.5