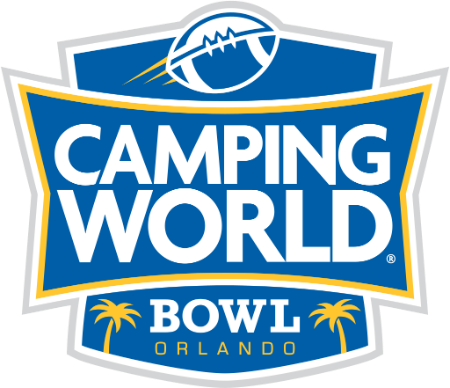 The Camping World Bowl is a matchup between two teams who wanted to do a little more this season. Notre Dame lost its two toughest matchups, while Iowa State failed to separate itself in the Big 12 yet again. The Fighting Irish, with three more wins, were early -3.5 point favorites with an over/under of 54.5 for the game in Orlando.
Notre Dame closed the season on a tear, winning its last four games all by at least 21 points. Some of that had to do with schedule, but it's never easy dominating four teams in a row.
That's something Iowa State couldn't do as it beat just one team who made it to a bowl and that was against Texas. Otherwise, the Cyclones didn't have enough to beat the better teams in the conference nor their in-state rival earlier in the season.
Those struggles came about because the offense was hit-or-miss. They battled and dropped 41 points against Oklahoma, but also scored 27 points at home against OK State and 17 in the finale against Kansas State.
That side of the ball will be a toss up because it's unknown just how good Notre Dame's defense is after allowing 18.7 points per game. The numbers are good across the board, but a lot of that has to do with competition because they couldn't stop USC or Michigan.
The Cyclones at least have the ability to put up points and be competitive because they were in every loss. Quarterback Brock Purdy had a respectable sophomore campaign, averaging 8.4 yards per attempt for 27 touchdowns and nine interceptions.
He has a nice mix of receivers with burner Tarique Milton averaging more than 20 yards per catch, while Deshaunte Jones, Charlie Kolar and La'Michael Pettway all had at least 48 receptions.
Purdy also provided some mobility and ran for 265 yards, which was a nice complement to Breece Hall, who took over the backfield in the second half of the season en route to 842 yards and nine touchdowns on 5.0 yards per carry.
ISU doesn't have as good of defensive numbers, but that's mostly because it played a more difficult schedule. The Cyclones still had one of the better defenses in the Big 12, allowing 25.3 points per game, 6.6 yards per pass and 3.8 yards per rush. While they had issues against some teams, they held their ground against the likes of Texas and Texas Tech, among others.
Notre Dame's offense really came through late and that was thanks to a resurgence by quarterback Ian Book, who tossed 12 touchdowns in the final three games. He finished the season with a mediocre 59.3% completion rate for 7.5 yards per attempt, but he also had 33 touchdowns and only six interceptions.
After a slow start, he found out that throwing to Chase Claypool was a good thing and that led to 12 touchdowns for the senior wide receiver. Book is also more active than Purdy on the ground and ran for 516 yards on 4.9 yards per carry with sacks included.
Combine that with Tony Jones Jr. who averaged 5.4 yards per carry and this offense had success against everyone but Georgia and Michigan.
Iowa State knows how to be competitive, but it's been unable to put the final pieces together most of the season, which is why it had five losses. Notre Dame's offense will be hard to bet against, though with a spread of more than three points, there should be money on both of these teams.
Neither Brian Kelly nor Matt Campbell has had overwhelming bowl success, though almost all of Kelly's losses have come in bigger games when the Irish were ranked near the top of the charts.
Notre Dame has covered its last four overall and is 6-1 ATS in its last seven following an ATS win. The under is 6-0-1 in Iowa State's last seven bowl games and the Cyclones failed to cover their last three games of the regular season.
Our Pick – This one should be entertaining. On the surface, it's a 10-2 team vs. a 7-5 team. But don't let Iowa State's 7 win season fool you. The Cyclones were 4 points away from also going 10-2. They dropped a 1 point decision to Oklahoma and Iowa and a 2 point decision to Baylor.
The Irish accomplished a 10 win season against a weaker schedule than the Cyclones. In fact, 9 of Notre Dames 10 wins came against teams with a power rating that was at least 7 points less than Iowa State's.
The closest team to Iowa State's rating that ND beat would be USC, a 30-27 Irish win. Against higher rated Georgia, it was a 6 point loss and Michigan blew the Irish off the field.
Iowa State on the other hand played a couple of teams with a power rating higher than Notre Dame's and lost by 1 and 2 points. They were competitive with a chance to win every time they took the field and that goes back to last season.
Not surprisingly, Iowa State's last two Bowl games in 2017 and 2018 were decided by 1 and 2 points, with the Cyclones winning one and losing one. Should we expect anything different this time around?
Notre Dame, despite a 10-2 season, has to be disappointed with where they ended up, in a minor bowl game 4 days before New Years. Iowa State on the other hand, has to be thrilled to draw an opponent like the Irish. That guarantees eyeballs and that's what this game is all about.
No better recruiting tool than to be able to call your recruits and tell them to turn on their TV's (or invite them in person) and watch us play Notre Dame in a Bowl game. A win almost guarantees the recruit will sign!
Iowa State +3.5