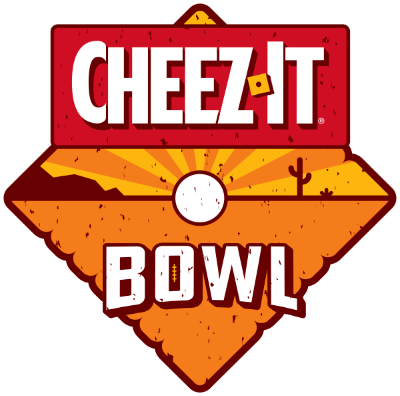 Last year's Cheez-It Bowl was maybe one of the ugliest games ever as TCU and Cal combined for 17 points and nine interceptions. This one will undoubtedly be different because Washington State and Air Force can both score. That said, the Falcons, the team with a better defense, were an early -3 point favorite with an over/under of 68.
Air Force had an awesome season (didn't make a bowl the previous two years) en route to a 10-2 record, though the early loss to Navy still has to hurt. And while 10 wins is nice, it was a bit of a down season for the MWC and the early overtime win against Colorado shows what kind of level the Falcons are actually at.
But while Washington State blew out Colorado in mid-October, it also gave up a ton of points and was just 3-6 in a mostly bad Pac-12. The Cougars didn't win a road game, which could be relevant for this matchup in Phoenix. 
That Wazzu defense is the biggest outlier in this matchup because it allowed 456.8 yards and more than 31 points per game. While its pass defense was one of the worst in the country, it also gave up 4.9 yards per rush. Mike Leach is a good coach, but playing the triple-option when you almost never see it, is a difficult task.
Given those defensive numbers, it wouldn't be surprising if the Falcons controlled this game most of the way. They pretty much ran on everyone, averaging 5.1 yards per carry behind a mix of guys with Kadin Remsberg and Taven Birdow the likely leaders in this matchup depending on the injury status of Timothy Jackson.
Quarterback Donald Hammond III also ran for 491 yards on 4.6 yards per carry, and his arm wasn't terrible despite barely completing 50% of his 99 pass attempts. He threw eight touchdowns in the final three games and while he may not be needed to pass in this game, there's no use in not trying against this wretched defense.
The problem for Air Force is that it struggled most against the pass, giving up 7.5 yards per attempt and while it allowed less than 20 points per game, a lot of that is because of the schedule. However, it's worth noting Hawai'i isn't much different than Washington State, at least in terms of being pass-heavy with a bad defense and Air Force won in Hawai'i 56-26.
That could be the most telling stat for this matchup no matter what the numbers look like for Wazzu quarterback Anthony Gordon. Yes, he's thrown for more than 5,000 yards for 45 touchdowns on 71.9% completion, but the Cougars still lost six games.
He'll put up big numbers with a balanced corps of wide receivers, there's no doubt, but that often hasn't been enough. Running back Max Borghi has 81 receptions and 121 carries if that says anything about the offense. His overall rushing numbers aren't bad, but it's unlikely he gets more than 10 carries.
There's a chance Wazzu's defense steps up against the triple-option and Gordon does his thing, but that's not an easy thing to bet on when Air Force has had success against every defensive front.
The over is 4-0 in Air Force's last four neutral-site games, but the under is 4-1 in its last five overall. The over is 4-1 in Washington State's last five overall and the Cougars are 4-1 ATS in their last five on grass.
Our Pick – it's easy enough to make a case for Washington State +3 as a "live dog" in this spot. You can simply point to a 37-35 loss to Oregon, one of the best teams with one of the best defenses in the nation. Certainly, if you can go toe to toe with the Ducks, you can do the same with Air Force.
Or perhaps we can point to their dismantling of Colorado, beating the Buffs 41-10 while it took OT for Air Force to beat Colorado.
If that's not enough, how about our model? It predicts a game with the total points scored in the mid 60's and decided by 1 to 3 points. In that type of a game, we'll back the dog most times.
The case for Air Force can be made just as easily. For starters, Washington State can't stop the run. They have no defense to speak of. Air Force should find the end zone often. Air Force should fare better defensively stopping the Washington St Aerial attack than Washington State will fare stopping the option.
Air Force was 4-2 on the road this year winning by an average score of 35-26. That's reflected in their outstanding road yards per point number of 12, which is above average.
Washington State was 1-5 on the road this year and lost by an average score of 24-34. That's also reflected in their offensive yards per point number of 17.2, way below the national average.
Furthermore, Washington State, under Mike Leach, has averaged just 20 points per game in their last 4 bowl games. Air Force, on the other hand, under Troy Calhoun, has averaged 33 points per game, over their last 9 Bowls with Calhoun.
That shows us that given extra prep time, teams come up with answers for the Mike Leach offense while the same can't be said for the Air Force option attack.
At 6-6, the Cougars are lucky to be here. It took a 54-53 shootout win over a 5-7 Oregon State team to land this Bowl game. This season, for Washington State, was a disappointment.
Air Force on the other hand, went 10-2 this year. Any college football team that wins 10 games is a damn good football team, regardless of the schedule played.
This season matched the best regular season Troy Calhoun has had at Air Force. He has won 10 games in a season 2 other times in his 13 years at the helm, but it took a Bowl win to reach 10 (9 reg season wins). A win here will make 11, capping off his most successful season as head coach at Air Force.
1/2 our wager on Air Force -3 and 1/2 our wager on Air Force -135 on the money line