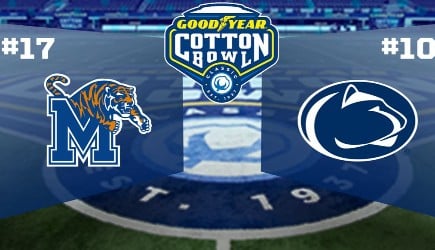 Memphis is on the heels of one of its best seasons ever and first New Year's Six bowl, though it has a few problems coming into this game.
The same can't be said about Penn State, who isn't losing James Franklin and has its quarterback of the future. That's partly why the Nittany Lions were early -7 point favorites with an over/under of 60.5 for the Cotton Bowl in Arlington.
Memphis was so good en route to a 12-1 record and AAC title that it lost its head coach and defensive coordinator to Florida State. Ryan Silverfield, who was the deputy head coach and offensive line coach, signed on to be the full-time head coach Dec. 13.
While offensive coordinator Kevin Johns remains, former linebackers coach Kevin Clune is the defensive coordinator for the bowl.
As for the team, the Tigers had an impressive season, but they didn't have to play UCF. While they swept Cincinnati, they faced both Navy and SMU at home, its other two big competitors in the AAC. Yes, Memphis had one of the best offenses in the country scoring more than 40 points per game but its defense was often an issue. 
The Nittany Lions only had one more loss in the Big Ten if that says anything. Their losses were at Minnesota and Ohio State, while they also had nice road wins at Iowa and Michigan State. These teams are almost built in the opposite mold and usually when that happens, the better defense wins.
Memphis hasn't seen a defense like this all season and while Cincy had a good group, it's not close to the same level. And against a bad Ole Miss team in the first game of the season, the Tigers scored 15 points. PSU was one of the best in the country, allowing 14.1 points per game and 2.6 yards per carry. However, its pass defense was mediocre, allowing 7.0 yards per pass.
That pass defense might be where the Tigers attack, but the offense had so much success because they could run on anyone, averaging 4.9 yards per carry as a team. Running back Kenneth Gainwell was awesome, rushing for 1,425 yards and 12 touchdowns on 6.4 yards per carry to go with 44 receptions and 532 more yards.
That success led to passing lanes for Brady White, who averaged 9.6 yards per pass for 33 touchdowns and nine interceptions with Damonte Coxie (1,144 yards, 9 TDs) getting a lot of the action. Of note, White's numbers struggled in the final two games against Cincinnati and he threw at least one interception in each of the last four games.
The funny thing for Memphis is that a new coordinator could help its defense. While it allowed a solid 24.4 points per game, that was largely due to some easy games on the schedule. Against better teams, the Tigers gave up 33 points to ULM, 30 to Temple, 41 to Tulsa and 48 to SMU. 
Penn State doesn't have an elite offense, but it should have the ability to put points on this defense. Then again, there are some worries after it managed just 27 points against Rutgers in the regular-season finale.
Of course, sophomore quarterback Sean Clifford didn't play in that game and he was a good portion of the offense, and he should be good to go for this matchup. In addition to averaging 8.4 yards per attempt for 22 touchdowns and six interceptions, he ran for 487 yards if you don't include sacks.
Top receivers KJ Hamler and Pat Freiermuth also have plenty to look forward to as just sophomores. Otherwise, top running back Journey Brown doesn't have huge numbers, but he averaged 6.1 yards per carry and that'll be enough against this front.
In addition to Penn State being the best team Memphis has faced this season, it'll be with new coaches all over the field. That's hard to bet on, especially if Clifford gets the PSU offense rolling.
Memphis has failed to cover its last four bowl games and is 1-10 ATS in its last 11 December games. The over is 8-1 in Penn State's last nine non-conference games and the Nittany Lions have covered their last four games played in December. 
Our Pick – Certainly any team that wins 12 regular season games is worthy of consideration as a 7 point underdog in a Bowl game. But there's plenty to be concerned with if backing Memphis.
How about the fact that the Tigers gave up 48 points to SMU, 41 points to Tulsa and 30 to a Temple team not known for putting points on the board.
It's also worth mentioning that when the Tigers played a team with a little resistance on defense, their point total was more reasonable, as we see in their games against Cincinnati, Temple and Ole Miss.
The Penn State defense is legit and much, much better than the 3 teams mentioned above.
The Lions should be able to hold Memphis to somewhere around 21 to 24 points, which means they'll have to score 29 points or more themselves to get the win and cover.
Our model thinks Penn State can accomplish just that, predicting a 34-18 Nittany Lions win when using data from the entire season.
Penn State -7