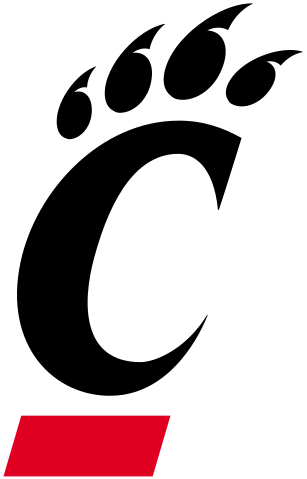 Cincinnati Bearcats football is listed with a season win total betting line of 6.5 for 2019. Early bettors see that as a mistake as they have hammered the over, pushing the money line on the over to -215.
Cincinnati was supposed to improve last year, but not to an 11-2 overall record with a bowl win over Virginia Tech.
The Bearcats took a favorable schedule and ran with it in Luke Fickell's second season in charge. Reaching a similar win total in 2019 will be difficult, but they're still expected to be one of the better teams in the AAC.
QB Ridder Loses Top Target
A lot of 2018's success was thanks to freshman quarterback Desmond Ridder, who never let go of the job after leading the comeback over UCLA in the opener.
Ridder completed a solid 7.9 yards per attempt for 20 touchdowns and five picks, but was also lethal on the ground with 572 rushing yards and five more touchdowns.
Combined with running backs Michael Warren (1,329 yards, 19 TDs) and Gerrid Doaks (missed 2018 due to injury), the Bearcats have one of the best rushing attacks in the country after going for 239.5 yards per contest last year.
The question is if Ridder can improve through the air with a different top receiver. Rashad Medaris (472 yards), Thomas Geddis (20 receptions) and Jayshon Jackson (23 receptions) will step into bigger roles at receiver, though tight end Josiah Deguara (468 yards, 5 TDs) is still there and Ohio State transfer Garyn Prater will play a role.
To reach or surpass last year's numbers, the line can't drop off with three starters gone. Michigan transfer James Hudson joins the unit, but there's a lot of inexperience on the left side, which could bring some early-season trouble.
Defense Line Gets Makover
While the offense will be fine, the defense will have a hard time matching the 291 yards and 16.1 points per game allowed last year.
The line is getting almost a complete makeover with Michael Pitts the only returning starter. Fortunately, the back seven is in a good spot with Perry Young expected back from a torn ACL to go with senior middle linebacker Bryan Wright.
The secondary battled numerous injuries in the spring, but none were serious. They return every relevant piece including Coby Bryant and all-conference safety James Wiggins. 
Last Season Will Be Tough to Top
Cincy may be as good as last year, but a more difficult schedule will likely lead to more losses. They get UCLA at home, but the Bruins should be better than a year ago and the trips to Ohio State and Marshall are both problems.
Even worse is that the Bearcats draw both Houston and Memphis out of the West, the projected best teams in the other division. The Bearcats have some issues to work out on the defensive line and while the offense could improve with another year of Ridder, a tougher schedule will keep them from hitting double-digit wins.
In fact, if both lines struggle to get going in the early season, winning only one non-conference game is possible and reaching only seven overall wins is realistic.
2019 Cincinnati Bearcats Football Schedule
Aug. 29 vs. UCLA (opened -3.5)
Sept. 7 at Ohio State
Sept. 14 vs. Miami (OH)
Sept. 28 at Marshall
Oct. 4 vs. UCF (opener +3.5)
Oct. 12 at Houston (opened +3.5)
Oct. 19 vs. Tulsa
Nov. 2 at East Carolina
Nov. 9 vs. Connecticut
Nov. 16 at South Florida (opened +2.5)
Nov. 23 vs. Temple (opened -7.5)
Nov. 29 at Memphis (opened +6.5)