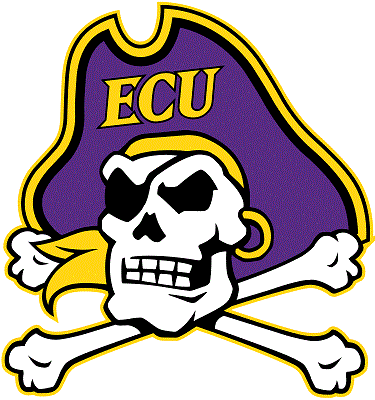 East Carolina football is listed with a season win total of 3.5 for the 2019 season with the early action heavy on the over. Their odds to win the AAC are 200 to 1, with the only team listed with higher odds being Connecticut.
Things didn't work out for former East Carolina head coach Scottie Montgomery, amassing just nine wins the last three years.
Mike Houston was hired to bring some optimism after he spent three successful years at James Madison. The Pirates have a lot of improving to do and aren't expected to get to a bowl game yet, but they at least have a quarterback to work with. 
Pirates to Run New Offense
Offensive coordinator Donnie Kirkpatrick also comes from JMU, but he was previously at ECU as a WRs coach from 2005 to 2015.
With sophomore quarterback Holton Ahlers the future, there's at least something to look forward to. Ahlers showed flashes as a freshman, finishing with 12 touchdowns and only three picks, but he only completed 48.3% of his passes and while he led the team with 592 rushing yards and six more touchdowns, that's usually not a good thing.
The new offense plans to spread it out in shotgun and that should lead to better passing numbers. The hope is that the receivers step up with Deondre Farrier (30 receptions), Tahj Deans (18 rec.) and Leroy Henley (20 rec.) all in bigger roles.
While the line could be a strength with three returning starters, running back is an unknown between Darius Pinnix (222 yards) and Hussein Howe (236 yards).
Veteran Defense – But Still Weak
The defense was always bad under Montgomery and that was the case in 2018, allowing 37.3 points per game. New coordinator Bob Trott has plenty of experience, but it'll likely take another year or two before getting this group to where he wants it.
Still, most of the talent from last year's team is back outside of its top playmaking end (Nate Harvey). The line is filled with seniors led by tackles Alex Turner and Jalen Price. It's the same case at linebacker where Aaron Ramseur and Bruce Bivens will man the two positions in a 4-2-5 scheme.
Corner Colby Gore and safety Davondre Robinson bring experience on the back end, but that might not be enough to show vast improvement.
Over 3.5 Wins Likely – But Not at -190
There's a decent chance the Pirates get out of their three-win rut immediately in Houston's first season. With a couple easy non-conference games to go with late contests against UConn and Tulsa, there's already an opening for at least four wins.
That may be looking at the bright side, but everything should be better about this team with a returning QB and solid base on the defensive side.
Reaching a bowl is another story, but a favorable cross-division slate could lead to five or six wins if all goes well.
If this team can build off Houston's coaching, five wins wouldn't be overly surprising. The Pirates may not be challenging at the top of the AAC standings, but with another year of Ahlers and a better defense, they should at least be more competitive.
While we like the over 3.5 wins prop, we have zero interest in laying -190 for the privilege. There is simply no value there.
2019 East Carolina Pirates Football Schedule
Aug. 31 at NC State (opened +20)
Sept. 7 vs. Gardner-Webb
Sept. 14 at Navy
Sept. 21 vs. William & Mary
Sept. 28 at Old Dominion
Oct. 3 vs. Temple
Oct. 19 at UCF
Oct. 26 vs. South Florida
Nov. 2 vs. Cincinnati
Nov. 9 at SMU
Nov. 23 at Connecticut
Nov. 30 vs. Tulsa