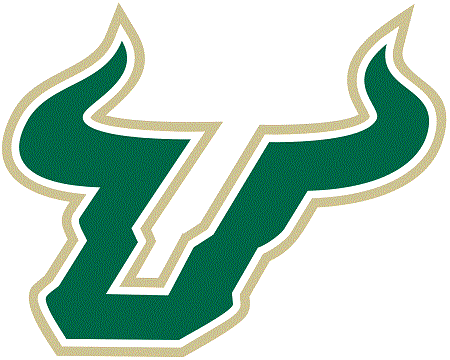 South Florida Bulls football listed at odds of 9 to 1 to Win the AAC in 2019, which places them 5th overall in the conference.
South Florida has work to do and Charlie Strong knows that. Things were great in 2018 until they weren't. After opening the season at 7-0 thanks to a favorable schedule, the Bulls fell off due to injuries and tougher competition.
With a bevy of returning starters on both sides of the ball, they'll hope to compete in the AAC again. 
Offense Should Improve with New OC
To improve offensive consistency, Strong brought in OC Kerwin Bell, the former coach of Valdosta State, who won the DII title. Helping the new offense is quarterback Blake Barnett, who had sparks in his first season at USF, but ultimately disappointed with 20 touchdowns (8 rushing) and 11 interceptions. He had some nice games, but passed for just one touchdown in his final three starts.
Improvement is expected with top wide out Randall St. Felix (20.6 yards per reception) leading the way complemented by Stanley Clerveaux, Michigan transfer Eddie McDoom and tight end Mitchell Wilcox (43 receptions).
The running game is also set with top options Jordan Cronkrite (1,121 yards, 9 TDs) and Johnny Ford (787 yards, 8 TDs) carrying the load again. Making it work is a line that returns all but one starter with plenty others having experience due to last season's injuries. The potential is obvious, but after how they closed last season, improvement is needed.
Defense Needs Work
The same goes for the defense, which never really showed potential, allowing 244.7 rushing yards and 31.5 points per contest. Players return at every level, but it's about staying healthy.
Stud middle linebacker Nico Sawtelle is the first player that applies to because if he isn't healthy, this defense will likely struggle again. Greg Reaves returns to his natural position at end, but this is still a line that was gashed by every opponent last year.
While the secondary had good numbers, that was mostly because of a porous run defense. They have a talented, young core on the back end led by corner Mike Hampton and safety Nick Roberts, but that won't matter if the run defense doesn't improve.
The bad news is that the run defense gets a major test against Wisconsin in the opener, but the trip to Georgia Tech could be more important since that game is more likely to be a win.
Looks Like 6 Maybe 7 Wins for the Bulls in 2019
USF has the schedule to get a few early wins, but with Wisconsin and BYU in non-conference play, the overall slate is undoubtedly harder than a year ago. The Bulls should reach at least four conference wins, but the final few weeks are as difficult as it gets with Cincy, Memphis and UCF the last three opponents.
Injuries derailed this team a year ago, but that doesn't mean they'll become elite if healthy this season. The offense should be more consistent with Barnett and a new coordinator, but the defense still has plenty of questions and that'll likely keep their win total around seven again.
The Bulls face Georgia Tech Game 2 – Yellow Jackets football betting Preview
2019 South Florida Bulls Football Schedule
Aug. 30 vs. Wisconsin (opened +10.5)
Sept. 7 at Georgia Tech
Sept. 14 vs. South Carolina State
Sept. 28 vs. SMU
Oct. 5 at Connecticut
Oct. 12 vs. BYU
Oct. 19 at Navy
Oct. 26 at East Carolina
Nov. 7 vs. Temple (opened -6.5)
Nov. 16 vs. Cincinnati (opened -2.5)
Nov. 23 vs. Memphis (opened +2.5)
Nov. 29 at UCF (opened +9.5)