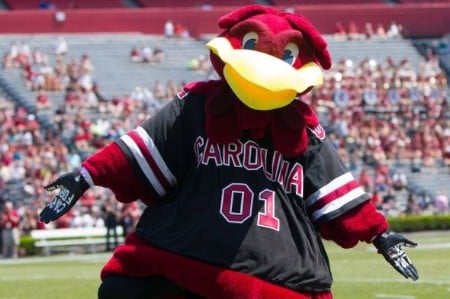 Clemson follows up its easy ACC schedule with a game against one of the worst teams in the SEC. The Tigers have dominated the battle for South Carolina the last five years and will likely make it another year after opening as -27.5 point road favorites with an over/under of 51.5.
Clemson is humming, winning its last six games by at least 31 points, which has unsurprisingly come after their almost-loss at North Carolina. The Tigers have outmatched everyone on their schedule and this will likely have a similar result.
South Carolina has a random Georgia win, but otherwise, hasn't done much, partly due to an early quarterback injury. The Gamecocks have lost four of their last five, recently falling to Appalachian State and 30-6 to Texas A&M. There aren't a ton of numbers that support the underdog in this spot outside of being at home for an in-state rivalry.
The main question is if South Carolina can score more than 10 points. This isn't a bad offense, but it's not a good one led by Ryan Hilinski, who is completing 58.0% of his passes on 5.9 yards per attempt.
The ground game is slightly better, yet they pass more than run because they've been losing more often than not. Former Clemson RB Tavien Feaster (back from a groin injury) is averaging 5.6 yards per carry and the Gamecocks are averaging 4.7 ypc as a team, but that may not matter in this matchup.
Clemson is giving up just 2.9 yards per carry and 238.2 overall yards per game. While some of that is because of a bad year for the ACC, it's not like South Carolina is much better than any of Clemson's prior opponents.
There are similar issues on the other side of the ball for South Carolina, who are allowing 381.1 yards per game and 4.1 yards per carry. Those aren't good numbers to have against maybe the most balanced offense in the country.
Quarterback Trevor Lawrence is talented, yet he's had a mediocre season as a whole, throwing for 27 touchdowns and eight picks. Of course, his recent numbers are much better, throwing at least three touchdowns in the last six games and more than 10 yards per attempt in the last four.
Then you have running back Travis Etienne, who has been more impressive in terms of numbers, averaging 8.7 yards per carry for 1,335 yards and 14 touchdowns. 
Looking at these numbers, only crazy people will think about betting South Carolina, though that's often the best time to bet on an underdog.
The problem is that Clemson hasn't overlooked anyone since the UNC game and this one is also a rivalry. Betting against a much better team will be difficult, especially after Clemson scored 56 points in last year's meeting.
Clemson is 9-1 ATS in its last 10 road games and the under has hit in its last six following a bye week. South Carolina is 1-4 ATS in its last five overall and 1-4 ATS in its last five non-conference games. The Gamecocks are 7-3 ATS in the last 10 meetings between these schools and 5-1 ATS in the last six played in Columbia.
Predicted Score – Clemson 31 SC 10