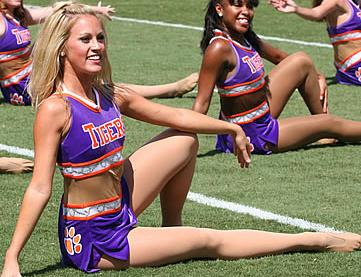 Clemson will host Georgia Tech on Thursday, August 29th as 33.5 point home betting favorites with no total posted as of this writing in June. While no total is posted just yet, we can tell you that our number would be 59.
All Clemson did last year was win the National Championship by blowing out Alabama. The Tigers were 15-0 straight up and 9-6 against the spread last season. Clemson was also 7-2 against the spread in conference games. Surprisingly, the Tigers were 2-5 ATS at home.
Georgia Tech was 7-6 straight up and a less than spectacular 5-8 against the spread last season. Their spread results were unremarkable with the exception of going 1-4 ATS in non conference games.
Clemson Dominated Yellow Jackets Last Season
These teams played each other last September, a game Clemson won 49-21. The game was never close with Clemson holding Georgia Tech, a team that averaged close to 400 yards rushing coming in, to 146 yards on the ground and just 57 through the air.
Meanwhile, Clemson was able to do as they pleased with a balanced attack that saw them gain 232 passing and 248 on the ground.
Paul Johnson is no longer the coach for the Yellow Jackets. The new man in charge is Geoff Collins who spent the last two years coaching Temple.
Imagine taking over a program and having to face the National Champs in game #1? Well, that's the scenario here and it could get ugly.
Switch to Pro Style Offense Could Get Ugly
Collins will switch to a pro style offense. Typically, there are growing pains anytime there is a new head coach. New coaches plus new schemes equals a learning curve and usually a lack of success early on.
In this case, it will be especially difficult. This is because the Georgia Tech roster is loaded with players recruited to play in an option style offense. Oh, and they have to go out and learn while they play, against the best defense in the nation a year ago!
Defense will be a problem for Tech as well. We use yards per point to grade a defense. Last season Georgia Tech's defensive yards per point number was 12.2. Good for 118th in the nation out of 130 teams.
Model Says This One is a Blow Out
Running this game through our model with several different time frame parameters, the closest we could get Georgia Tech to Clemson was  a 39 point margin. Scary because that's using last years data with the option attack which  tends to keep teams in games.
While we'll generally never lay 33.5 points for real money, it's the only way we can go with this one. In fact, while there is no total posted, if the number ends up being 60 or less, betting this game over the total may be the way to go.
Our Pick – Clemson -33.5