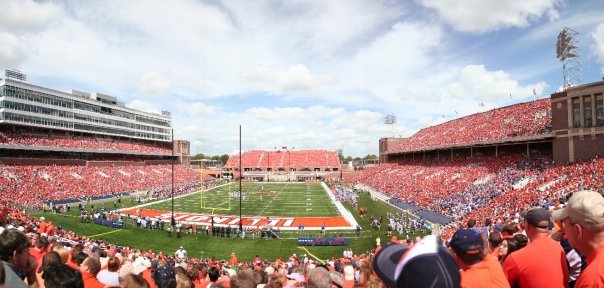 The Fighting Illini of Illinois football are listed with a season win total betting line of over or under 3 wins. Some early (and brave) bettors have taken a liking to Illinois by betting the over on that prop, which as a result has pushed the money line to -155 on the over. Under bettors can get +115.
The Illini were also unkind to those who bet on them last year. Illinois burned a hole in their backers pockets by going 4-8 against the pointspread.
The losing continued for Illinois last year with just two Big Ten wins in Lovie Smith's third season as head coach. Things have to turn around at some point, but that'll require major improvement on both sides of the ball.
Freshmen QB's Battle for Starting Job
Quarterback was still a toss up in the spring and that'll likely be the case throughout the season. The Illini thought they were getting USC grad transfer Matt Fink, but that didn't work out so the job will be between a few freshmen, most notably Isaiah Williams, who brings dual-threat ability and will join the team in the fall.
To help the new quarterback, the Illini at least have decent pieces around him. Top running backs Reggie Corbin (1,085 yards, 9 TDs) and Mike Epstein (411 yards) are still there and could rack up even better numbers behind a line that returns four starters with the new guy coming over from Alabama. It's hard to see Corbin averaging more than 8.5 yards per carry, but he should get more touches.
There are questions at wide receiver behind Ricky Smalling (406 yards, 5 TDs), but that's mostly because this offense struggled to complete passes last year, as Dominic Stampley and Trenard Davis at least have experience.
Defense Can't Get Any Worse (hopefully)
The defense has more questions after allowing 508 yards and 39.4 points per game and that's why Smith is taking over coordinating duties, as well. It's hard to see this group not improving considering you can't get much worse from where they were.
The front four returns every starter led by end Bobby Roundtree (7.5 sacks) and a couple seniors at tackle.
It's the same at linebacker with Jake Hansen the lone returning starter, but Washington transfer Milo Eifler is expected to make an immediate impact. Sophomore corner Jartavius Martin and safety Sydney Brown are expected to take another step and become the rocks of the secondary, though do-it-all freshman Marquez Beason could become a valuable piece at some point. This defense will improve, it's only a question of how much.
Another Year in the Basement Likely for Illini
To reach a bowl, the Illini have to win all three non-conference games, which is possible, but not probable. Either way, they'll need to win at least three Big Ten games to have a chance and it won't be easy with Michigan and Michigan State in cross-division games.
They'll need at least two home wins with those coming from Nebraska, Rutgers or Northwestern, but winning on the road is another story and will likely have to come at Minnesota or Purdue.
The Illini are expected to finish near the bottom of the standings for a reason. Their schedule is unkind and they haven't shown much improvement under Lovie Smith in three years. They could reach four or five wins this season, but a bowl is likely out of reach unless their new quarterback excels in the offense.  
Illinois to Host Nebraska on 9/21/19 – Cornhuskers Betting Preview
2019 Illinois Fighting Illini Football Schedule
Aug. 31 vs. Akron (opened -16.5)
Sept. 7 at Connecticut
Sept. 14 vs. Eastern Michigan
Sept. 21 vs. Nebraska
Oct. 5 at Minnesota
Oct. 12 vs. Michigan
Oct. 19 vs. Wisconsin
Oct. 26 at Purdue
Nov. 2 vs. Rutgers
Nov. 9 at Michigan State
Nov. 23 at Iowa
Nov. 30 vs. Northwestern