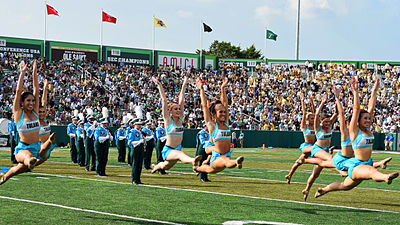 Tulane will host Florida International in week 1 college football betting action with the Green Wave currently favored by -2.5 to -3 points, depending on the sportsbook. As of this early writing in June, there is no total posted however we predict  50+ points in this one.
Tulane needed a win in their Bowl game last year to insure a winning season and they got one, beating Louisiana 41-24 to end up 7-6 on the year. Against the spread Tulane was 6-7 overall. They were also 3-2 ATS in non conference games and 2-0 ATS as a home dog.
Florida International was 9-5 straight up last season with a Bowl game win over Toledo. Against the spread they were simply a cash machine, going 10-2 ATS which incidentally was the 2nd best spread record in the nation!
Be Careful Betting Florida International In 2019
Just as a word of precaution, that fantastic record against the spread for Florida International should send out warning signals. The Panthers obviously snuck up oddsmakers last year. No one expected that success.
That said, they won't sneak up on anyone this year. You will likely have to pay a premium to back FIU. Oddsmakers may even over compensate. So, pick your FIU spots very carefully.
The Green Wave returns 5 on offense including QB Justin McMillan and 8 on the defensive side of the football. However, they brought in a new offensive coordinator this year who will in turn implement a new uptempo offense.
Butch Davis and Florida International are in great shape in terms of returning talent. Not only do they return 9 starters on each side of the football but they also are one of the  most veteran teams in the nation in terms of returning players as a whole.
When a college football team returns the number of players that FIU is returning, and is in off of a 9 win year the previous season, big things are then expected. Can they deliver?
Despite Warning FIU Looks Like the Play
Had these teams played one year ago,  we would have made Tulane a 3 point favorite, just as they are now. Remember, oddsmakers are making a line they feel will slit action evenly. The first week of the season, they are relying quite a bit on last years results. But things change.
If we look at these two teams, we'd have to come to the conclusion that Florida International is likely going to be as good or better than they were a year ago.
At the same time, we have to assume that Tulane will take a bit of a step backwards. Now, that step back may only be evident for the first few games as the Green Wave work in a new offensive scheme.
With all of that in mind, we need to adjust our number on this game from where we currently have it at Tulane -3. How much of an adjustment to make is the million dollar question. But really, any adjustment off of a key number like 3 creates some value on the other side.
Despite our warning to be careful about where you choose to back Florida International this year, we are going to do just that right off the bat. We simply feel they are the team more likely to thrive right out of the gate.
Our Pick – Florida International +3