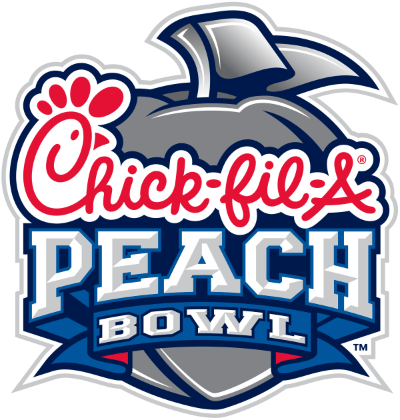 Oklahoma maybe isn't the fourth-best team in the country, but it won the Big 12 and deserves to be here after going 12-1. Its reward is a matchup against LSU in the Peach Bowl. The Tigers were early -13.5 point favorites with an over/under of 75.5 for the game in Atlanta.
The spread is large, but this should be a fun game just because of what the offenses represent. LSU kind of came out of nowhere with Ed Orgeron at the helm and may have the best offense in the country, averaging 47.8 points per game. While the Tigers had some issues against Auburn, they torched the likes of Alabama and Georgia, among others.
It wasn't the same case for Oklahoma, partly because its defense let teams hang around and partly because the offense dipped in the second half of the season. While Lincoln Riley is a mastermind, the Sooners failed to surpass 34 points in each of the final four games and playing better defenses isn't a viable excuse when LSU dropped 37 points on Georgia.
The question is what the Sooners can do against Joe Burrow. They have decent defensive numbers, allowing 24.5 points and 330.6 yards per game, but there aren't many explanations for giving up more than 40 points to both K State and Iowa State. While the numbers got better late in the season, that was mainly because of schedule.
It'd be surprising if LSU didn't drop more than 40 points in this game given how it's looked all season. Burrow did what he wanted en route to the Heisman, tossing 4,715 yards, 48 touchdowns and six interceptions on 10.7 yards per attempt with a 77.9% completion rate.
Throw in his ability to move in the pocket and Oklahoma faced no one close to the talent level. Receivers Ja'Marr Chase (1,498 yards, 18 TDs) and Justin Jefferson (1,207 yards, 14 TDs) form an elite corps, while running back Clyde Edwards-Helaire may be the least talked about player, yet he ran for 1,290 yards and 16 touchdowns on 6.5 yards per carry.
The other side of the ball is where this game will be decided because while LSU has a better defense, it struggled to keep opponents down. Sure, some of that had to do with apathy when Burrow was putting up 50 points per game, but it did let Alabama come close and that same thing would lead to a late cover for OU in this game.
Jalen Hurts is plenty familiar with LSU, though his prior meetings were defensive slug fests when he was at Alabama. This one will be different and he need to put points on the board early and often.
Hurts slowed down late in the season, but his numbers are still unmatched by most. He completed 71.8% of his passes on 11.8 yards per attempt for 32 touchdowns and six picks, but he also ran for 1,255 yards and 18 touchdowns on 5.7 yards per carry.
He has a stocked receiving corps led by CeeDee Lamb (1,208 yards, 14 TDs) and Charleston Rambo (734 yards, five TDs), but those two have been taken out of games at times. Running back Kennedy Brooks does the rest after averaging 6.7 yards per carry for 976 yards, and it's a wonder if they'll try and take a run-first approach to keep the clock moving in this matchup.
Oklahoma's offense slowed down late in the season and it didn't have enough in this spot a year ago against Alabama. While a back-door cover is always possible, the Tigers have a decent chance to be up by more than a few touchdowns entering the fourth quarter, assuming their defense makes a few early stops against Hurts.
The under is 4-0 in Oklahoma's last four neutral-site games and 18-3-1 in its last 22 games in December. LSU has covered in its last five against the Big 12 and the over hit in the last four of those matchups.
Our Pick – Perhaps no game better illustrates why we don't like laying significant points in football games than the 2018 Orange Bowl between these Sooners and Alabama.
Clearly Alabama was the better team and the right side in that game. Heck, it was 21-0 in the first quarter and 28-0 at the beginning of the 2nd quarter!
We had Alabama -14 in that game. We had the game pegged perfectly and yet, guess what happened? Yep, the Sooners scratched and clawed and hung around. They scored a TD with 4 minutes remaining to turn an 18 point deficit into an 11 point deficit.
They lost the game, but got the cash for their backers by covering at +14.
This year isn't much different. LSU is the better team. LSU will score plenty of points. But the LSU defense isn't as good as the Alabama defense was last year and look what happened.
Certainly if Texas can go toe to toe with LSU offensively, so too can the Sooners. The LSU defense has shown some weakness against legitimate offense and the Oklahoma offense is in fact legit.
The Sooners also find themselves with the rare opportunity of being right back to where they were one year ago with a chance to have a different outcome this time around.
Oklahoma +14