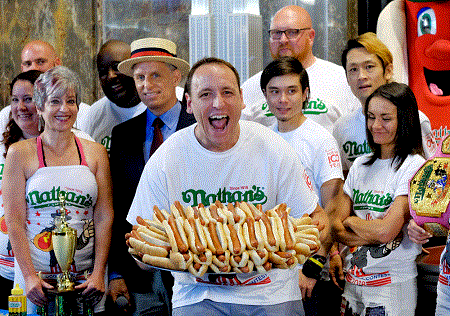 Joey Chestnut is favored at odds of -1500 to defend his Nathans Hot Dog eating contest title at Coney Island, NY. The event takes place every July 4th.
You know it's the heart of Summer when we mention Joey Chestnut and the famous Nathan's Hot Dog Eating Contest.
In years past, the odds to win the contest were much closer. For example a decade ago when Takeru Kobayashi was Joey Chestnut's main competition, Chestnut had odds of -120 while Takeru Kobayashi was priced at -110.
Participate in the CIRCA Survivor Contest via Proxy!!
In 2019, it looks like competition is thin. 5dimes sportsbook doesn't even list the odds for individual competitors. Instead, you can bet on Chestnut, or the Field. The Field is listed at odds of +700 or 7 to 1.
You can tune in at 12 noon est. on ESPN2 to watch this spectacular event. This will be the 16th consecutive year ESPN has televised the contest.
Handicapping the Over/Under 73.5 Hot Dogs
Betting the total, aka the over or under,  looks to be where the value is in this contest from a betting standpoint.
Here are the number of hot dogs Joey Chestnut has downed each year since 2005.
2005 – 32
2006 – 52
2007 – 66
2008 – 59
2009 – 68
2010 – 54
2011 – 62
2012 – 68
2013 – 69
2014 – 61
2015 – 60
2016 – 70
2017 – 72
2018 – 74
Last year Chestnut broke his previous record (from the year before) and finished off 74 dogs. So, if you bet the over, you're also betting on a new record.
You'll notice that Chestnut has had consecutive years where he has eaten more then the year before. His longest streak of beating the previous years number, is 3 tears.
If Joey beats last years number, it will be the first time he has beaten the previous years mark in 4 consecutive years.
We don't proclaim to be Hot Dog eating handicapping experts. However, it would seem to us that the odds favor Chestnut NOT eating 74 or more dogs in 2019.
I mean, there has to be a ceiling no? At some point, he has to reach a number that is simply no longer beatable. Unless of course, Nathan's makes the dogs smaller!
Our Pick – We'll take under 73.5 dogs at a price of -110