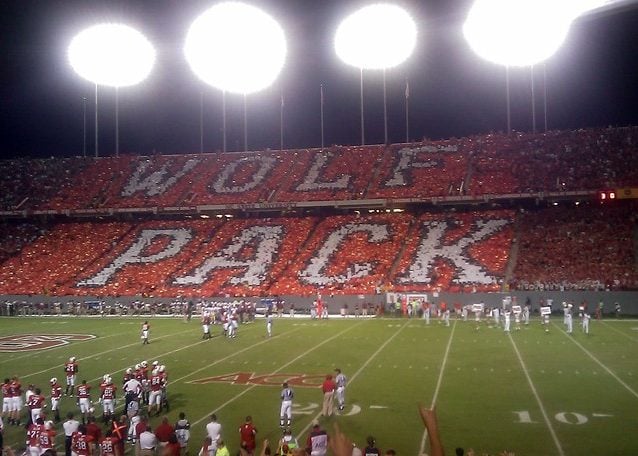 Oddsmakers have set the season win total for NC State football at over or under 7.5 wins and early bettors are betting the over. This is indicated by the money line of -155 attached to the under at MyBookie.
NC State has won nine games each of the past two seasons, but doing that in 2019 will take some luck due to turnover on both sides of the ball.
Head coach Dave Doeren isn't too worried, having taken a 3-9 team in his first season to five straight bowl games, which is the goal again. However, the Wolfpack have to implement a new quarterback and that's never easy. 
Offensive Line a Question Mark
In addition to finding a new quarterback, the Wolfpack have new offensive coordinators (and a new QBs coach) in running backs coach Des Kitchings and receivers coach George McDonald.
At quarterback, last year's backup Matthew McKay had the leg up in spring, but that job likely won't be decided until the fall with freshman Devin Leary and sophomore Bailey Hockman also in the mix.
Ricky Person (471 yards) will be the main running back if healthy, though freshman Bam Knight made a splash in the spring in his place. The hope for those guys is to churn out more consistent yardage after the offense gained just 3.8 yards per carry as a team last year.
The line is another question, as it lost its position coach and three starters, while most of the projected starters missed spring practices.
It's a similar situation at receiver with top targets gone, but Emeka Emezie (616 yards) and Thayer Thomas (383 yards) look set to be viable options to go with tight end Cary Angeline, who provided a small spark last year, averaging 18.8 yards on his nine catches.
Wolfpack Defense In Good Shape
The defense returns a good amount of seniors so reaching last year's 22.7 points per game allowed should be possible. Seniors James Smith-Williams and Larrell Murchison are a big part of that on the line, but also a nice linebacking corps which features sophomore Isaiah Moore, who was second on the team in tackles last season with 69.
It's a similar situation in the secondary with seniors across the board in corner Nick McCloud and safety Jarius Morehead (81 tackles), but also younger players like Tanner Ingle, who moved to safety. This group lost a lot of talent last year and still had a fine season, but with better depth, more is expected in 2019.
Betting Over 7.5 Wins May Have Value
Similar to last year, the schedule is favorable in the ACC, which should lead to at least seven wins again, if not more if quarterback goes to plan.
The most important challenges for the Wolfpack will be trips to WVU and FSU early in the season. If they can win one of those games, eight wins are on the table after starting the year at 4-1.
Otherwise, outside of the Clemson game, their biggest test will either be home against Syracuse or at BC or Wake. The Wolfpack have new pieces on offense, but if the defense can improve, that should allow them to compete behind Clemson for second in the Atlantic division.
Betting on the over will be tough because of a new quarterback, but Doeren always seems to get the most from his QB so it wouldn't surprise if McKay came close to Ryan Finley's numbers from a season ago.
The Wolfpack travel to West Virginia on 9/14/19 – WVA Betting Preview
2019 NC State Wolfpack Football Schedule
Aug. 31 vs. East Carolina (opened -20)
Sept. 7 vs. Western Carolina
Sept. 14 at West Virginia
Sept. 21 vs. Ball State
Sept. 28 at Florida State (opened +3.5)
Oct. 10 vs. Syracuse (opened -6.5)
Oct. 19 at Boston College
Nov. 2 at Wake Forest
Nov. 9 vs. Clemson (opened +24.5)
Nov. 16 vs. Louisville
Nov. 21 at Georgia Tech
Nov. 30 vs. North Carolina