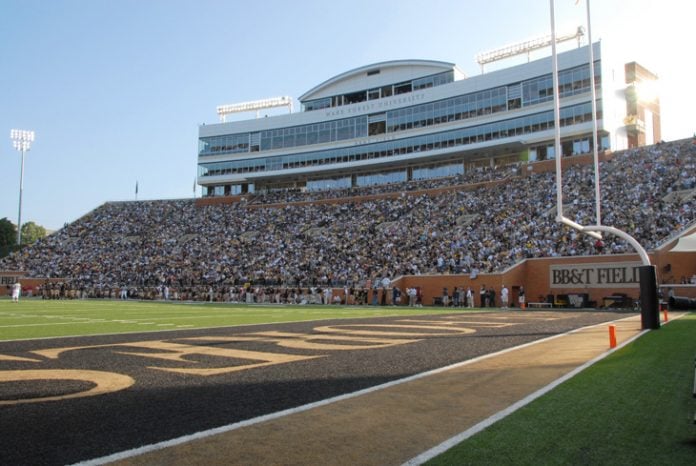 The Wake Forest Demon Deacons (5-1) host the Florida State Seminoles (3-3) on Saturday at 7:30 p.m. ET. The line opened with Wake Forest as 2-½ point favorites and has already dropped to 1-½ points at some sportsbooks.
56% of the action is on the favored Demon Deacons. Bookmakers are expecting lots of scoring in this college football game as indicated by the total of 68-½ points. These teams last met one year ago in a game Florida State won 38-17.
Wake Forest playing well
The Demon Deacons started the season 5-0 before losing 62-59 last week against Louisville (4-2). They own wins against Utah State (3-3), Rice (0-6), North Carolina (3-3), Elon (3-4) and Boston College (3-3).
The engine driving their success is an offense that ranks 4th best in the country. Their high octane attack is producing a whopping 540.5 yards per game. No wonder the total is so high!
If you're looking for a chink in the armor it could be their rush defense. Wake Forest is allowing opposing running backs to rack up 160.5 yards per game.
That's an extremely high number given the fact that most of their opponents end up abandoning the run whilst playing from behind. Florida State might not be having their best year, but they have the athletes and talent to go score for score against a defense like this one.
Florida State looking for rebound win
More than a few pundits thought the Seminoles would give #2 Clemson a fight last week, but it ended up being a fight with two hits. Clemson hitting Florida State and Florida State hitting the ground. They lost 45-14 in a laughable easy win for the Tigers. If they are going to keep their season from going into free-fall they must stop the bleeding here and now against the Demon Deacons.
Part of the problem for Florida State is a defense that ranks near the very bottom of the FBS. They're giving up 32.2 PPG which is hard to believe given this team is full of great athletes. On average, they are allowing 290.5 yards per game through the air in addition to 174 yards per game on the ground. Shoring up the defense is the first step to turning things around, but doing against the fourth best offense in the country is an enormous ask.
Penalties killing Florida State
When viewing the matchup between these two teams one statistic that leaps off the page is penalties against the Seminoles. They are being flagged an average of eight times per game for a total loss of 73 yards. They can't expect to win football games giving up yardage like that.
 It's up to HC Willie Taggert to get more discipline from his team. Mistakes happen, but 73 yards per game is too big of a number for a team that ought to have more discipline than that. The game could end up being decided by how many times they end up being flagged and the total yardage lost due to those flags.
Our Pick – Florida State +2