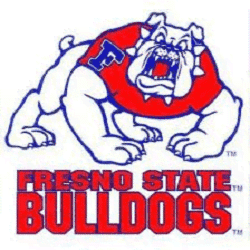 The season win total betting line for Fresno State has been set at over or under 8 wins for the 2019 college football season.
Fresno State was 12-2 last season winning the MWC and winning the Las Vegas Bowl. Expectations for 2019 are that the Bulldogs take a step back. However, they are still listed as the 2nd choice in the MWC at odds of 5 to 1.
The year before Jeff Tedford's arrival, Fresno State was 1-11. In the two years since, the Bulldogs are 22-6 with bowl wins over Houston and Arizona State.
The offense is going through a sizable makeover with a new quarterback and coordinator at the top of the list. Former line coach Ryan Grubb takes over with last year's backup Jorge Reyna set to start under center in his senior season.
Offense Likely to Run More
Needless to say, it's going to be hard to replace Marcus McMaryion's consistency after only throwing five picks last year and completing almost 70% of his passes.
That being the case, the Bulldogs could focus more on the ground game between Ronnie Rivers (743 yards, 10 TDs) and Jordan Mims (436 yards, 6 TDs). Then again, that aspect of the offense may not work as well with only one returning linemen.
Sure, left tackle Netane Muti returns from an Achilles injury, but even then, there are three underclassmen set to start up front. The receiving corps is also mostly new with tight end Jared Rice (664 yards) the top returnee to go with wide out Derrion Grim (20 receptions). 
Defense Was #1 in Nation Last Season
While the offense has questions, the defense should be elite again after allowing just 13.7 points per contest in 2018.
Using yards per point to rank, this Fresno defense was number 1 in the nation last season, allowing 1 point for every 22.7 yards gained against. Sure, we realize they play in a weak conference, however that's a notable accomplishment regardless.
Talent returns at every level and while some high-end guys are gone, that won't turn this group into a sieve. Kevin Atkins and Jasad Haynes remain at tackle, while Isaiah Johnson moves into an open spot on the end since Mykal Walker is going to his natural linebacker position after becoming a force last season.
Corner Jaron Bryant and safety Juju Hughes are all-conference players in the secondary, but the other two spots are a question with underclassmen likely to step in.
There's experience at every level, but most of the new pieces are young, which could lead to trouble early.
Fresno Not as Strong But Still Solid in 2019
It doesn't help that FSU opens the season with two difficult contests against USC and Minnesota. The Bulldogs split Minny and UCLA last year, but doing that again could be more difficult with a mostly new offense.
To reach another MWC title game, they'll likely have to win at SDSU or hope the Aztecs lose twice somewhere else on the schedule. While the Bulldogs avoid Boise, they have a game the week before and after the trip to Hawai'i. This team will be near the top of the MWC again because there's no reason to doubt it given the last two seasons.
However, this year will be a little harder for Fresno to reach the title game with a new offense and a big question at quarterback. And if the defense takes a step back, that could lead to a team like SDSU taking the top spot in the West division.
That said, the Bulldogs should still reach around eight wins with more than that unlikely due to the offense.
2019 Fresno State Bulldogs Football Schedule
Aug. 31 at USC
Sept. 7 vs. Minnesota
Sept. 21 vs. Sacramento State
Sept. 28 at New Mexico State
Oct. 12 at Air Force
Oct. 18 vs. UNLV
Oct. 26 vs. Colorado State
Nov. 2 at Hawai'i
Nov. 9 vs. Utah State
Nov. 15 at San Diego State
Nov. 23 vs. Nevada
Nov. 30 at San Jose State