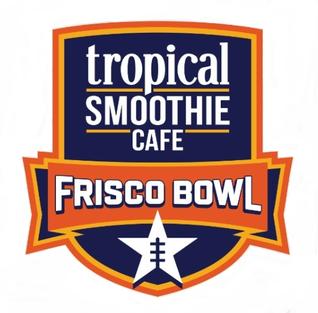 The Frisco Bowl (played in Frisco, Texas) is an odd matchup between two mediocre teams out of the MAC and MWC.
Kent State won its final three games of the regular season, while Utah State had one more win (7-5), yet hasn't won three in a row since September. Behind a quarterback who could be headed to the NFL, the Aggies were early -7 point favorites with an over/under of 65.
Utah State was boom-or-bust this season and that could be how this game goes, though the winner is still up for grabs. The Aggies had some impressive wins, beating San Diego State, Nevada and Wyoming, all three with winning records. However, they were also blown out by the best teams they faced and couldn't contend against BYU or Air Force.
Then again, Kent State had just one win against a bowl team and while it was impressive against Buffalo, it also came at home by three points and it needed 24 fourth-quarter points in the process.
If the Golden Flashes didn't score 24 points in the fourth quarter of that game, they wouldn't be in a bowl and their other five wins are against pretty bad competition. Their biggest positive was that they were competitive against the best MAC teams, losing by seven points or less in three conference losses.
There isn't one unit that stands out in this matchup, though Kent State's defense may be the worst. The Flashes are allowing 470 total yards and a ridiculous 5.1 yards per carry and 248.6 rushing yards per game. 
The problem is that Utah State quarterback Jordan Love is projected to be drafted in the upcoming NFL draft after declaring and there's a chance he wants to air it out in his final collegiate game.
That's fine, but the issue is that he wasn't that good this season. He averaged 7.1 yards per attempt for 17 touchdowns and 16 interceptions compared to 8.6 ypa, 32 touchdowns and six INTs last season.
Interceptions were a problem all season and that won't be easy to bet on. If Love doesn't care about looking good, the Aggies will turn to the ground game for this matchup between Gerold Bright and Jaylen Warren. The running backs are both averaging more than 5.0 yards per carry for a combined 1,388 yards and 13 touchdowns.
Utah State's defense was slightly better, though it's not like it was a strong suit. The Aggies gave up close to 200 rushing yards per game and 4.3 yards per carry. That doesn't play directly into the hands of Kent State, but no matter the opponent, it was able to put points on the board.
Quarterback Dustin Crum had an efficient season, completing 68.2% of his passes on 8.2 yards per pass for 18 touchdowns and two interceptions. He also led the team in rushing and had more than 700 yards on 6.7 yards per carry if you don't include sacks.
Running backs Will Matthews and Xavier Williams got a heavier workload late in the season, but the offense still ran through Crum. That offensive potency should keep them around with three active wide receivers led by Isaiah McKoy. 
It's hard to ignore KSU's brutal rush defense, yet as seen late in the year, its offense was able to consistently put up points, especially against weaker defenses.
While the level of wins and competition point to Utah State, the closest comparison for rush defenses may be when USU beat Colorado State 34-24 earlier in the year. The Aggies should put up the points, but they'll allow some too.
The under has hit in Utah State's last seven bowl games and the Aggies covered three of the last four in the regular season. The Golden Flashes have covered their last four overall and the over is 4-1 in their last five as an underdog. 
Our Pick – This game line was as high as -9.5 at one point but the majority of the money has come in on underdog Kent State.
We'd agree with the line move in this spot. For starters, bowl games are a great time to look for live underdogs to back. Playing in a Bowl game is a big deal, especially for teams like Kent State that don't get the opportunity often.
Kent State has only appeared in 3 bowl games ever. One in 1954, one in 1972 and the most recent one in 2012. They lost all three, but all 3 were close.
Our model likes Utah State by 8 when taking into account the entire season's stats. However, when only using stats from the last 7 games, that Utah State margin shrinks to 2 and when using stats from only the last 4 games, Kent comes up as the straight up winner.
This suggests that Kent is the team in better "current form" and could very well be a live dog in this spot.
Kent State +7