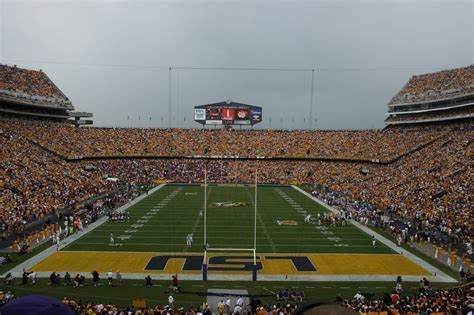 Georgia Southern won 10 games and a Bowl Game last season and they are one of the best spread-option teams in the Nation. However, facing a powerhouse LSU team in their house they are 28.5-point underdogs with a total sitting at 53.5.
The money has been on LSU as they opened as a 25.5-point favorite for this non-conference affair.
This is the first ever meeting between these teams.
The Eagles were 9-4 ATS last season and while they did not play any teams from the SEC, they have lost nine of their last 10 games facing teams from that conference.
LSU was 10-3 last season and they were 7-6 ATS. They face a ranked Texas team in their next game but cannot overlook Georgia Southern.
The Tigers were 7-6 ATS last season and they have only one loss, straight up, in their last 10 games at home.
Run Eagles, Run
Last season running the option Georgia Southern ranked 7th in the nation averaging 266 rushing yards per game. The top two RB's are gone, but they have a few young guys ready to step up. Wesley Kennedy III is back and last season he rushed for nearly 500 yards.
Shai Werts is back under center and while he had 10 TD's and no INT last season you can see how much the Eagles rely on the run, as he only passed for 987 yards last season.
Georgia Southern only played one Power 5 team last season losing 38-7 to eventual National Champion Clemson.
LSU ranked 34th in the nation in run defense last season. Obviously, the run is what they need to stop in this game. While they will not be able to replace Butkus Award winner Devin White they have some key pieces back up front and that experience will help them in this game facing a solid option attack.
 The Passing Tigers?
LSU is known as a run heavy team, but new passing game coordinator Joe Brady will bring his skills from the New Orleans Saints to Baton Rouge to help turn LSU into more of a passing team.
The new offense suits senior QB Joe Burrow (2,894 yards 16 TD 399 rushing yards last season) just fine and Justin Jefferson (54 rec 875 yards last season) is back to lead the WR corps.
RB Clyde Edwards-Helaire, (658 yards and 7 TD last season) is back and the team is high on freshman back John Emery Jr., who is the 2nd ranked RB prospect in the nation. The pass will be featured more for the Tigers, but these guys will get their carries and Emery Jr. has all the tools to be the next start back for LSU.
The Eagles get a lot of players back on defense and they were pretty well-rounded last season. However, they do not have much of a pass rush and that may hurt them in this game if LSU is successful at implementing their new passing attack.
Bettorsworld Prediction
The author of this article, Jason likes LSU -28. The Bettorsworld take on this game involves the total, however, we can't disagree with Jason's pick. LSU may be the team doing all the scoring.
All of our predictive models have this game in the 40's. We do have one that has the total right at 53, the current line, but all of the others are low to mid 40's. Makes sense, with Georgia Southern running the ball most of the time.
Our Pick – LSU/Georgia Southern UNDER 53.5