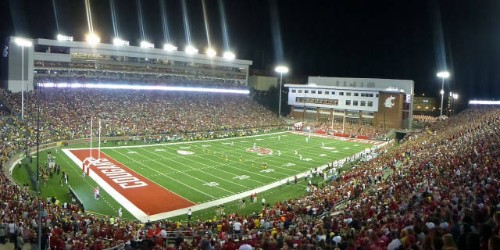 Washington State hosts New Mexico State to kick off the 2019 college football season as 32 point favorites with a total of 64.5. This is one of the most lopsided betting affairs of the week with just about all of the money going on the Aggies as big dogs.
New Mexico State was 3-9 last season and they had one of the worst defenses in college football. No shock they are big-time 32-point underdogs facing 23rd ranked Washington State on the road and the total for this game is 64.5.
Not only were the Aggies a pretty bad team last season, but a bad betting one as well going 2-9-1 ATS. They have failed to cover in their last six games, and they are 0-7 in their last seven games facing teams from the Pac 12.
Washington State was 11-2 last season with their only losses coming in conference facing USC and Washington.
The Cougars were 11-2 ATS as a great team to bet on and they are 13-1 ATS in their last 14 home games.
More Experience Should Help
The Aggies return eight starters on the offensive side of the football including QB Josh Adkins, who passed for 2,563 yards with 13 TD and 9 INT but was sacked 26 times.
One key player in this game for NMSU and for the season is RB Kevin Huntley, who rushed for 505 yards and had 47 catches for 529 yards. RB Christian Gibson (590 yards 6.1 yards per carry last season) is also back and the WR corps lost their top target but are still a tall bunch that may give the Cougars' secondary problems.
The Aggies favor a mid-range passing game and their offensive line, which returns four starters, has to give Adkins some protection in this game.
After being a laughingstock on defense for several years the Cougars have improved on D in the last few years and ranked a respectable 42nd in the nation last season.
If the Cougars can get in the backfield and pressure Adkins, the Aggies will be in for a long day.
Repeat Success with Another Transfer
Last season QB Gardner Minshew was great as a one-year transfer player finishing 5th in the Heisman voting and this season the Cougars take the same route with former Eastern Washington QB Gabe Gubrud taking over under center.
Gubrud passed for more than 11,000 yards and 100 TD at Eastern Washington and he inherits a WR corps that is mostly intact and last season combined for 297 receptions and had 30 TD.
The Air Raid offense for the Cougars is a potent one and Max Borghi (366 rushing yards last season) will get some carries and NMST cannot forget about him.
The Aggies were hammered against the run last season, but ranked 43rdin the nation defending the pass, which is key for this game. The pass rush was also pretty good last season, but they lost three key rushers from the line. To have any chance in this game New Mexico State has to pressure Gubrud and they also have to step up defending the pass.
Our Prediction
While the Aggies have many issues, this game sets up for them rather well since their strength on D is their pass defense. Still, while hard to go with Washington State giving 32 points and having a new QB I have to go with them.
New Mexico State gave up at least 42 points in six games last season including giving up at least 60 points in two games. WSU will light it up in this game crushing the Aggies and covering the big spread.
PICK:Washington State -32
Read our season previews for Washington State and New Mexico State