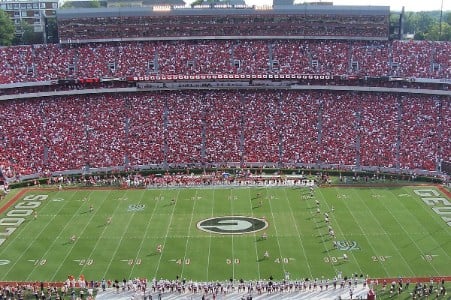 This is a look ahead situation for Georgia, but that may not matter in this matchup. It's been another bad season for Georgia Tech, though not unexpected. With the SEC title game looming the following weekend, the Bulldogs opened as -28 point road favorites with an over/under of 46.
This spread is a lot for a team who hasn't scored more than 27 points in its last six games. However, Georgia Tech is probably worse than all of those previous opponents. It's had some surprising wins and just beat NC State last week, but it also lost 45-0 to Virginia Tech.
This team has been all over, scoring two points against Temple to winning at Miami 28-21. Georgia has dominated the last two meetings by a combined 83-28 score, though that came against the triple-option.
The main reason the Yellow Jackets are struggling is because new head coach Geoff Collins was stuck with a bunch of players who were recruited to play the triple-option. That's led to some terrible quarterback play that will only get worse in this game.
Freshman James Graham has held onto the job, completing 47.4% of his passes on 6.5 yards per attempt. Unsurprisingly, he's been better running the ball with 278 yards on 3.1 yards per carry and that includes sacks.
Running back Jordan Mason has had decent success, averaging 5.5 yards per carry for 862 yards, but they probably can't rely on that in this game. Georgia is winning through a dominant defense that is allowing 2.5 yards per carry and 68.5 rushing yards per game. Simply put, Georgia Tech will need Graham to complete passes if it wants to score and that may not be possible.
The other side of the ball is why Georgia may not cover. Jake Fromm remains a game manager, though it seems like he's gotten worse, failing to complete more than 50% of his passes the last three games.
While he doesn't throw interceptions, his numbers are down across the board, including the 7.5 yards per attempt which was at 9.0 last year. Still, the rushing attack may be all the Bulldogs need with D'Andre Swift expected to go off as he's averaging 6.2 yards per carry on the season.
As a team, they're at 5.2 ypc and that's enough for this matchup because the Yellow Jackets are allowing 4.7 ypc and more than 200 rushing yards per contest.
Georgia isn't scoring, but a lot of that has to do with generally better defenses in the SEC. This is still a team that can put up points against weaker opponents and that's why it has a chance of covering even with the SEC title game the following week.
The under has hit in Georgia's last six games and eight of its last nine. Georgia Tech has failed to cover in its last five non-conference games, as well as its last four at home against a team with a winning road record.
The road team is 13-2-1 ATS in the last 15 meetings between these schools mainly because the Bulldogs have covered the last nine played at Georgia Tech.
Predicted Score – Georgia 35 Georgia Tech 10