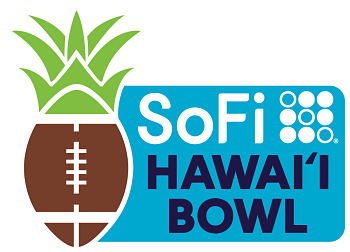 Hawai'i is one of the few teams that gets to play a home bowl game. On one hand, that's an advantage for the fans, but otherwise, the players are somewhat disappointed they don't get to travel, though complaining about playing in Hawai'i probably isn't a good look. BYU still was a -2 point favorite with an over/under of 64 a week before the game.
Hawai'i surprised a lot of people by making the MWC Championship game, but it ended up being completely outmatched by Boise State. It had a nice season en route to a 9-5 record, though a lot of that can be attributed to a favorable schedule and mostly down MWC. The Rainbow Warriors won their final four games of the regular season, but two of their losses came at home, so there's a path to BYU covering the small spread.
The Cougars didn't have as good of record at 7-5 and while some of that is because of schedule, it can't be overlooked that they lost to SDSU (who Hawai'i beat), USF and Toledo. On the other end of that, they beat Boise, a team that Hawai'i lost to twice by more than 20 points.
The Warriors were a small favorite in this spot last year, yet their defense didn't have enough in a 31-14 loss to Louisiana Tech. That defense is the main reason to go with BYU because Hawai'i is allowing 426 yards and more than 30 points per game. They weren't great against anyone, but their rush defense was probably the worst facet, allowing 200 rushing yards per contest on 5.6 yards per carry.
Of course, Hawai'i has a chance because BYU struggled to move the ball consistently, averaging 4.3 yards per carry with no running back having more than 360 rushing yards.
That's not a great stat, but they had a slew of injuries in the backfield. Lopini Katoa is the top guy going into this matchup with Jackson McChesney and Emmanuel Esukpa also getting touches.
Quarterback Zach Wilson also used his legs a bit, partly because his passing numbers were lacking, averaging 7.6 yards per attempt for 11 touchdowns and seven interceptions. While the numbers don't look like much, BYU managed to get the job done against a lot of competition, including Boise State.
The other part is that BYU's defense is a tad better, allowing 24.4 points per game and 6.8 yards per pass. They weren't dominant, but held the offenses of Boise and Utah State down late in the season.
The Rainbow Warriors are reliant on their passing game, but there's a chance they run the ball more against BYU's 4.5 yards per carry allowed. Miles Reed is at a solid 5.4 yards per carry while quarterback Cole McDonald averaged 4.4 ypc with sacks included.
That said, McDonald is still going to pass a ton, averaging 7.8 yards per attempt for 29 touchdowns and 14 picks. Three different receivers had at least 80 receptions and four different ones had at least 800 yards with Cedric Byrd (95 receptions, 1,068 yards) leading the way.
Hawai'i has the more explosive offense, yet it was held in check numerous times from the Boise losses to the low outputs against UNLV and SDSU late in the year. There is a question about BYU's offense, but if its defense doesn't get throttled, it has the ability to score enough points to cover.
Hawai'i is 1-4 ATS in its last five bowl games, while BYU has failed to cover its last six as a favorite. The Cougars have covered the last four meetings between these teams and they won last year's matchup 49-23, though it came at home. Either way, they dominated the trenches and that could be the case again.
Our Pick – Our model has this game a complete toss up predicting a 1 point game. We do feel that BYU is the more talented team and the Boise State games, one for BYU and two for Hawaii, illustrate that point.
But BYU had a cake walk down the stretch and stumbled this season against some weaker opposition.
With no concrete opinion here, we are going to take a different approach for the Hawaii Bowl.
The majority of the action being written on this game is coming in on BYU. Yet, the line nudged a tad in Hawaii's direction. This is generally a good indication that there is some respected money on the Hawaii side. So, we'll tag along with a contrarian play.
Hawaii +2