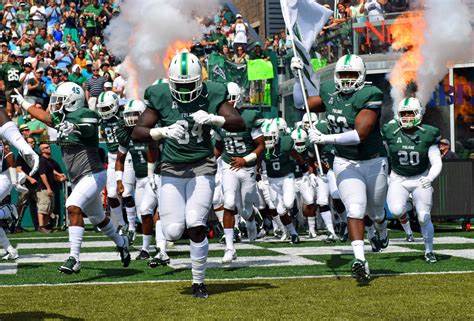 Tulane will host Houston in Thursday Night college football betting action with the Green Wave currently favored by 3.5 at 5 dimes sportsbook.
Tulane is home for this matchup, but Houston has a one-day rest advantage after playing last Friday. This may look like Houston's game on the surface, but both teams are much different than a year ago. The Cougars won 48-17 last year, yet the Green Wave opened as -3.5 point home favorites.
Dana Holgorsen almost pulled out his first key win with Houston last week, but ended up losing to Washington State in a covering effort. Quarterback D'Eriq King is the most exciting player in this game and is the reason anyone will back the Cougars. His passing remains suspect with a 54.5% completion rate, but he's averaging 5.2 yards per carry for 196 rushing yards.
Throw in running backs Kyle Porter and Patrick Carr, and Houston's rushing attack may be the biggest advantage in this game, which was the case last year. As a team, the Cougars ran for 298 yards and three touchdowns in the win and that even included King leaving early due to injuries.
While that's the strong suit of this offense, receivers Keith Corbin and Marquez Stevenson are still reliable options for King in the passing game.
Tulane Defense Improved
The difference this year is that Tulane appears to have a much better defense, holding FIU to 14 points in the opener and maybe more impressive keeping Auburn to 24 a couple weeks ago. The biggest stat in that game was that Auburn managed just 3.8 yards per carry. If Houston has similar issues on the ground, the Green Wave will be in a good spot for the win.
That's because Houston's defense remains a work in progress, even if it was competitive against Wazzu last game. They gave up 440 passing yards to Wazzu's Air Raid and 354 rushing yards to Oklahoma in the opener.
Even though Houston's defense was somewhat better last year, Tulane still ran for 212 yards on 4.9 yards per carry in the loss. If they can get a little more from quarterback Justin McMillan in the passing game, the home team will be in business.
Still, similar to Houston, Tulane is run-first behind a dual-threat quarterback in McMillan, who leads the team with 154 rushing yards. Darius Bradwell and Corey Dauphine are experienced running backs, but this offense truly breaks open when McMillan uses his legs.
Tulane Ready to Challenge for C-USA Title?
Houston is the team who has battled for C-USA titles in the past, but there's a chance Tulane puts its hat in the ring after this one. At home and under the lights against a defense that can be exploited, the Green Wave will be a popular bet to win and make a name for themselves.
The over is 4-0-1 in Houston's last five road games and 5-1 in its last six conference games. However, the under has hit in the last four meetings between these teams. The Cougars are also 6-1 ATS in the last seven meetings played in Tulane.
This game opened Tulane -2 and moved to -3.5 within the first few hours of betting. Our numbers have Tulane winning by anywhere from 5 to 10 points. If that's the case, Tulane -3.5 obviously gets the money.
However, we'd advise monitoring the line to see if Tulane -3 or better pops up.
Our Pick – Tulane -3 or better