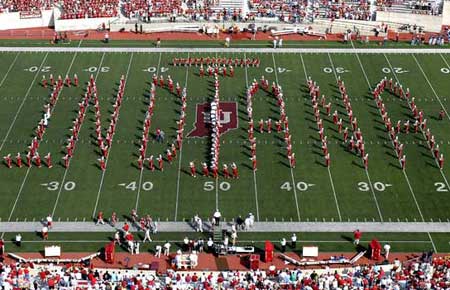 The Indiana Hoosiers Football program has a season win total betting line for 2019 of over or under 6 wins. Early bettors are betting over 6 wins as indicated by the rising money line attached to the over which is -140.
If you're really looking to make a betting score and are perhaps a little delusional, you can bet the Hoosiers to win the Big 10 football conference at huge odds of 250 to 1. We advise saving your money on that one and looking for better wagers!
Indiana failed to make a bowl game in Tom Allen's second full season in charge, again finishing with a 5-7 record. The Hoosiers had chances, but couldn't get that sixth win after starting the season 4-1.
Peyton Ramsey No Lock for Starting QB
To get that sixth win, they'll need a little more offensively and that could easily happen with 15 returning starters on both sides of the ball.
The big question for the offense is at quarterback even with Peyton Ramsey returning after he threw 19 touchdowns and 13 interceptions on a 66.0% completion rate to go with 354 rushing yards and five more touchdowns.
It's a question because the job isn't guaranteed to be his with last year's backup Michael Penix back from a knee injury and Utah transfer Jack Tuttle also in the mix.
Whoever gets the job will be working with new offensive coordinator Kalen DeBoer (Fresno State), but also most of the talent from last year's squad.
Running back Stevie Scott (1,137 yards, 10 TDs) will aim to better his numbers, and the same goes for top wide outs Nick Westbrook (590 yards, 4 TDs) and Donavan Hale (508 yards, 6 TDs).
The line lost a few starters, but with plenty of depth and seniority, that group shouldn't take a major step back.
Veteran Defense Looks to Improve
There's similar hope on the defensive side after allowing 29.9 points per game. Kane Wommack takes over as the new coordinator after serving as the linebackers coach last season.
The Hoosiers lost their top two tacklers, but return almost everyone else with pieces at every level. Marcelino Ball and Raheem Layne lead the secondary, while Reakwon Jones returns at linebacker.
Seniors Gavin Everett, Allen Stallings and Andre Brown fill out the group and while the line has the most questions, run stopper Jerome Johnson is still there.
It Will Take an Upset or Two to Qualify for Bowl
The Hoosiers want to get to a bowl game and again have the non-conference schedule to reach that goal.
They should exit those games with three wins, but still need to find three more in Big Ten play. That likely means wins at home against Rutgers and Northwestern, but also somewhere on the road, like at Maryland, Nebraska or Purdue.
Their schedule is slightly easier than a year ago, but they still need to find an upset. Even with an easier schedule, this team has to improve on both sides of the ball. Getting better play at quarterback is the first step, but if the offensive line isn't at the same level, that will limit some development despite returning a lot of talent.
The defense also has to improve. If it allows 30-plus points to almost every Big Ten opponent again, six wins will be difficult.
2019 Indiana Hoosiers Football Schedule
Aug. 31 vs. Ball State (Lucas Oil Stadium, Indianapolis) (opened -16.5)
Sept. 7 vs. Eastern Illinois
Sept. 14 vs. Ohio State
Sept. 21 vs. Connecticut
Sept. 28 at Michigan State
Oct. 12 vs. Rutgers
Oct. 19 at Maryland
Oct. 26 at Nebraska
Nov. 2 vs. Northwestern
Nov. 16 at Penn State
Nov. 23 vs. Michigan
Nov. 30 at Purdue