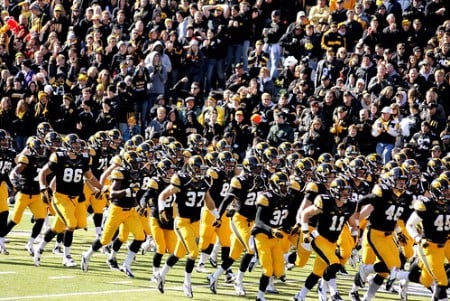 Penn State looks like Ohio State's biggest contender in the Big Ten, while Iowa can't afford to lose another game after falling at Michigan last week. Even on the road, the Nittany Lions were early -3.5 point favorites with an over/under of 41.
The Nittany Lions are undefeated, but there are questions about how legit they are. While they disposed of Maryland and Purdue, they barely got past Pitt and otherwise haven't faced much competition. Beating opponents you are supposed to be is nice, but when the competition picks up, that's when we'll learn the most about this team.
That's kind of what happened with Iowa because it was a legit Big Ten title contender entering its game at Michigan, then its offense managed just three points.
It was surprisingly high scoring in last year's meeting even though neither offense looked great with Penn State winning 30-24. Neither quarterback averaged more than 6.7 yards per pass and neither team averaged more than 3.6 yards per carry.
The game was decided by a couple Nate Stanley interceptions and that's how Iowa lost its last game. This one will likely go a similar way with both teams focusing on the ground game.
New PSU quarterback Sean Clifford has had a nice start to the season, averaging 10.7 yards per attempt for 12 touchdowns and two interceptions, but a lot of that was done against mediocre defenses.
Iowa does not have a mediocre defense, allowing 254 yards and 8.8 points per contest. It's likely the Nittany Lions will lean a little more on their running game, something they haven't needed despite averaging 5.2 yards per carry in the early season.
In addition to Clifford rushing for 200 yards, Journey Brown and Noah Cain are both averaging at least 5.9 ypc.
But nothing will come easy against this Iowa defense and the same goes for the other side of the ball because Penn State has better defensive numbers, allowing 7.4 points and 240 yards per game. 
Iowa may be at home, but after scoring three points last week, there's a real worry about how the offense can move the ball against better defenses. Stanley was thought to be an advantage given his experience, but he's averaging a supbar 7.7 yards per attempt for eight touchdowns and three picks.
When needed against Michigan, he couldn't do anything and that's where all three of his interceptions came. That being the case, the Hawkeyes will also likely lean toward the ground game with Mekhi Sargent, Toren Young and Tyler Goodson all able bodies in the backfield. As a team, they're averaging 4.4 yards per carry and while that's not as good as PSU, they've had a more difficult schedule.
Coming off a loss, this is a nice spot for Iowa to get a win as a home underdog. The problem is that you'll be betting on an offense that scored three points last game. Penn State has looked good in the early going, but what will it look like against a legit opponent? 
The under is 5-0 in Penn State's last five conference games, but the over is 6-1 in its last six road games against a team with a winning home record. The under is 3-0-1 in Iowa's last four games overall. The home team is 5-1 ATS in the last six meetings between these schools and the Hawkeyes are 4-1 ATS in the last five meetings played in Iowa.
Our Pick – Iowa +4