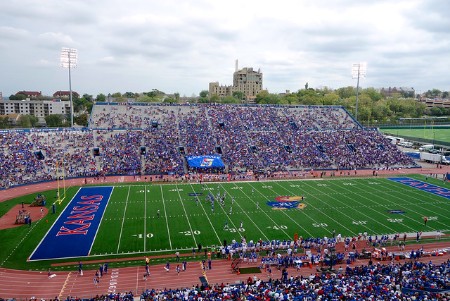 It didn't take too long for new head coach Les Miles to make an instant impact on this Kansas Jayhawks team, as they are 2-1 on the season and fresh off of their first road win against a Power 5 team in their last 48 attempts as they beat Boston College handily 48-24 last weekend.
Kansas needed this win badly after losing to Coastal Carolina the week before as 7 point favorites. WVU is also coming off a big win as they were able to beat NC State 44-27 as home 7 point underdogs.
The Mountaineer offense finally woke up after only scoring 27 points combined in the first two weeks of the season. Head Coach Neal Brown has wanted to establish the run and finally was able to with a running back by committee approach, led by Kennedy McCoy with 66 yards and 2 touchdowns. 
Both QB's Off Big Week
The quarterback matchup this week will be key as both quarterbacks are in their first year as a starter, and both coming off big weeks. Kansas's Carter Stanley put up 238 yards and 3 TD's, and WVU's Austin Kendall had 272 yards and 3 TD's, both bouncing back after dreadful stat lines the previous week.
Kansas would much rather run the ball as they are averaging over 200 yards per game on the ground, where WVU is clearly a pass first team, as they are only averaging 79 yards per game thus far.
Kansas's Khalil Herbert has been leading the way for Kansas, with over 357 yards rushing and 2 TD's early on this season. Last week he managed to amass 187 yards, with an 82 yard rush.
While Pooka Williams Jr, sophomore running back out of Louisiana has had 2 big games for the Jayhawks, with 121 yards last week and 99 yards the previous game against Coastal Carolina.
Upset Time?
This matchup has been dominated by WVU as of late, winning 6 of the last 7. This week Kansas will be a 5 point home underdog as they try to keep the momentum rolling after last week's big win.
Both teams compare similarly offensively, as WVU is averaging 23.7 ppg, while Kansas is tallying 26.3 through 3 games. WVU looks for their first road win of the season, after losing soundly to Missouri 38-7 week 2.
Over the Total Worth a Look
The lean on this game should be towards the over 51 total, as WVU has scored over 34 points in 6 of their last 7 games and Kansas put up 48 last week against a tough BC defense and should have no issue scoring this week against WVU.
Kansas starts their Big 12 schedule this week, and it will only get tougher as they face 3 straight ranked opponents after WVU. 
Our Pick – Intriguing match up as a result of both teams finding their offense last week. That spark could be enough to keep Kansas in this one the whole way. Upset? Kansas +4