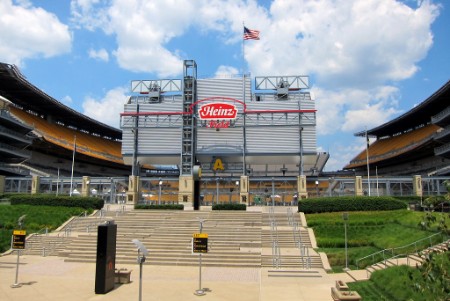 The Pitt Panthers find themselves as a 12 point home underdog to high powered UCF this week in a game where the Knights have drawn the majority of the betting action. The total at 5 dimes sportsbook is 61, up froom an opener of 58.
UCF will storm into Pittsburgh Saturday afternoon fresh off a huge 45-27 statement win over Stanford last week where they completely dominated in nearly every way.
Led by the star freshman QB Dillon Gabriel, who threw 4 touchdowns and 347 yards against a well-respected Stanford defense. Gabriel looks impressive early on this season with 9 TDs and 0 interceptions, as he started for the second straight week in place of Brandon Wimbush, but moving forward it is clear that Gabriel will be the man leading the way.
Can UCF Offense be Stopped?
The UCF offense is nearly impossible to slow down, as they have scored at least 30 points for the 29th consecutive game, longest streak in the NCAA since 1936.
The Pitt offense is averaging only 14.7 points per game and coming off a close 17-10 loss to Penn State in a rivalry game.
When these two teams faced off last year it played out like many had speculated as the high powered UCF offense couldn't be slowed down as they easily covered the 13 point spread and won 45-14, but failed to hit the over that was set at 65.5.
Pitt Had High Hopes
Heading into the season there were high hopes for the Pittsburgh offense that was bringing back a veteran Junior QB, who had shown promise and seemed poised to take that next step.
In the first 3 games he has only accounted for 2 touchdowns to go along with 2 interceptions. Pitt has always been a run first team under Coach Narduzzi, but they lost most of their running back depth to graduation and it showed on Saturday against Penn State when they only had 24 yards rushing on 25 carries.
This is a stark contrast to the UCF Knights who have a very strong running game, putting up 338 yards week 1, 312 yards week 2, and 198 yards week 3, led by the speedster Junior running back Greg McCrae who had 109 yards last week, which included a 73 yard run. 
UCF is 3-0 this year against the spread, and a very impressive 9-1 in their last 10 games ATS. The one thing that Pitt does have going for them is they are dragon killers, having beaten #2 ranked Clemson in 2016 and #2 ranked Miami in 2017, and nearly beat a #5 ranked Notre Dame last season.
Our Pick – Penn State scored 124 points thru 2 games and was held to 17 by Pitt. That may be why our model gives the Panthers a shot here. The model also predicts this game to stay under the total of 61.5, which how we are going to play this one.
UNDER 61.5