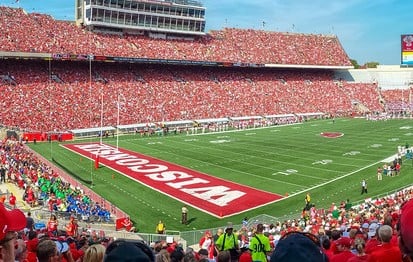 Kent State knew what it was getting into before the season with trips to Arizona State, Auburn and Wisconsin, but it finally gets to breathe a sigh of relief after this one. Wisconsin has smashed smaller competition in the early season and was a -36.5 point favorite with an over/under of 59 for this game.
The Golden Flashes just won 62-20, but they already lost 30-7 to ASU and 55-16 to Auburn. This one will likely be in that same vein unless their coach has some secret motivation tactics. Otherwise, it wouldn't be surprising if they just want this game to end, especially if Wisconsin gets out to a big lead in the first quarter.
That's exactly what the Badgers did to fellow MAC team Central Michigan in a 61-0 win. While they had some trouble against Northwestern last week, Kent State isn't at the same level, at least defensively. The Flashes are giving up 261 rushing yards per game and that's not going to work against this offense which recently ran over Michigan.
Jonathan Taylor is on the outside of the Heisman conversation with 559 yards and eight touchdowns on 6.7 yards per carry, but if he can add 200 more yards in this game, the dream won't be dead.
It'd be surprising if he didn't come at least close to 200 yards given how the KSU defense has looked against better competition. The best comparison is when they gave up 467 rushing yards to Auburn.
The worry for Taylor is that he probably won't play the entire game, but as long as he gets 20 carries, 150 yards and a couple touchdowns are on the table.
The other boost for Wisconsin's offense is that quarterback Jack Coan has looked decent when called upon, completing 73.7% of his passes for 8.1 yards per attempt. That's not great, but it's better than what this offense has had in recent seasons.
The other part to Kent State's troubles is that Wisconsin's defense is just as good as ASU's and Auburn's, if not better. The Badgers are allowing less than 50 rushing yards per game, which isn't great news for the underdog.
The Flashes are a run-first team as quarterback Dustin Crum is second on the squad with 38 rushes (includes 11 sacks). Running back Jo-El Shaw (278 rushing yards) may be their most dynamic player, but his performance could look a lot like the Auburn one when he had nine yards on six carries.
The main reason Kent State scored against Auburn was that Crum had a couple long passes en route to 198 yards and a touchdown. If he can post similar numbers without turning the ball over, that's at least a start for covering this game.
However, given how the first month has gone for these teams, there are few reasons to take the underdog in this spot. Wisconsin hosts Michigan State next weekend so looking ahead is a worry, but not if it runs for 400 yards against this defense.
The over is 4-0 in Kent State last four games following a straight-up win, while most of Wisconsin's trends point to the over. The Badgers also have an odd trend of being 14-2 ATS in their last 16 following a game in which they didn't have more than 275 total yards in their previous game.
Predicted Score – Wisconsin 49 Kent State 3