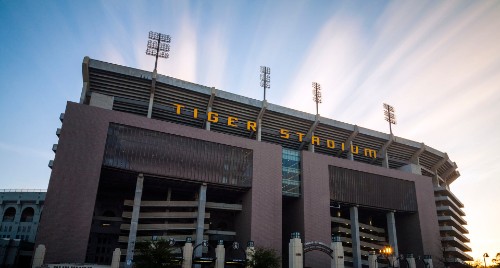 Joe Burrow's Heisman campaign will only grow after this matchup. LSU hosts Utah State in its last non-conference game of the season. While the Aggies are 3-1, they'll be lucky to put up a fight in this game. The Tigers were -27.5 point favorites with an over/under of 73 early in the week.
Utah State isn't a bad team, but beating up on Stony Brook and a few MWC teams isn't comparable to playing LSU. Most relevant to this game is that USU's defense has struggled against any high-end competition it's faced the last couple years.
Last year, the Aggies gave up 38 points to Michigan State and this year gave up another 38 points from 401 passing yards and 178 rushing yards to Wake Forest. LSU's offense is better than both of those teams and has scored at least 45 points in all four of its games.
That's because Burrow has taken the next step at quarterback for the Tigers, completing 80.6% of his passes on 12.3 yards per attempt to go with 17 touchdowns and two picks. Given how he looked last year and that he already faced a team like Texas, those are incredible numbers.
They should only continue against USU with receivers Ja'Marr Chase, Justin Jefferson and Terrace Marshall getting most of the action. It should also be a successful day for Clyde Edwards-Helaire, who has 288 rushing yards on 5.6 yards per carry. There are no signs over the past couple weeks that point to Utah State containing this offense.
The best hope for the Aggies is if their quarterback, Justin Love, also gets in a groove. He hasn't had the best start to the season, though outside of the opening loss, he hasn't been needed. Either way, he threw for 32 touchdowns and six picks last year, but already has five interceptions with six touchdowns this year.
That's not great, but he at least has the potential to score against this offense. The problem is that they probably won't be able to run the ball as much as previous games.
Jaylen Warren and Gerold Bright have combined for 636 rushing yards, but LSU is allowing less than 100 rushing yards per game. If those guys can't find room, it'll be up to Love to do everything, similar to what Sam Ehlinger did for Texas a few weeks ago in its loss.
LSU has an elite offense behind Burrow, but if it gets out to an early lead, the defense will likely let up and be susceptible to allowing points, similar to the most recent win against Vandy.
The problem is that the Tigers could probably reach 70 points in this game and if they come close, that means the Aggies will need close to 40 to cover. Of course, those are extreme numbers with the over/under hovering in the low 70s.
Utah State has covered in its last seven non-conference games and the under has hit in its last four following a straight-up win. The over is 6-0-1 in LSU's last seven games overall, mostly due to Burrow.
Predicted Score – LSU 45 Utah State 31